Ad blocker interference detected!
Wikia is a free-to-use site that makes money from advertising. We have a modified experience for viewers using ad blockers

Wikia is not accessible if you've made further modifications. Remove the custom ad blocker rule(s) and the page will load as expected.
ココロボット

(Japanese: ココロボット -  koko robotto)
NAME INTERPRETATION:  ココ(koko-coco b/c her clothes are white, though,she hates coconut's)
 ロボット(robot-b/c of her clothing people think she is robot this is only her 2nd name)
|TYPE: UTAUloid

MODEL: NONE
GENDER:Female
VOICE RANGE UNKNOWN
RELATED CHARACTERS Ngôi sao
AGE 25
GENRE rock
HOMEPAGE NONE
WEIGHT unknown
CHARACTER ITEM white umbrella
CREATOR |Manami Riko
HEIGHT |unknown
|VOICE SOURCE |Manami Riko
PICTURE LINK LIST |tumblr
BIRTHDAY |janrary 11
|LIKES |ngôi sao
MEDIA LIST | YOUTUBE
|RELEASE DATE |december 7 2012
"|DISLIKES | easter,coconut's,
FK593DIE
SIGNATURE SONG |NONE
PERSONALITY: she is gental and a wonderful guardian but she can go off sometimes and she can't reamber what she was doing.she can seem angry but it is just how she looks like ngôi sao never seen her happy or with a smile on her face.she is protecing ngôi sao b/c she is afraid she will get kidnap again!she does not want her to leave her sight thats why she tells her she can't go to school or be a vocaloid.she is very carefull she loves ngôi sao! 
Supplemental InformationEdit
Hair color: black Headgear: her ears Eye color: red orange
Earphones:
 black and white feather earphones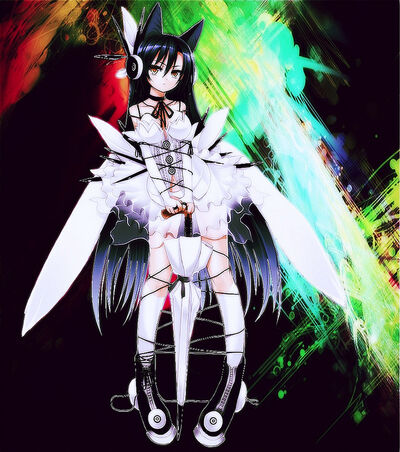 Dress: white fluffy Nationality/Race: Japanese