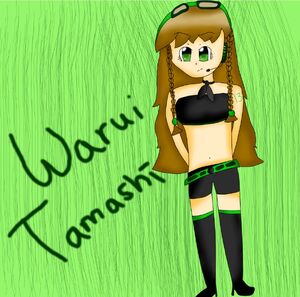 Warui Tamashi, meaning "bad soul" has a reputation of threatening to kill people; but deep inside she loves everyone and is thankful for what she has. She is 18 years old, 5'4 in height and 110 lbs. in weight. You'll often find her saying, "I'll kill you...",. Her character item is her bow and arrow which are strapped around her back, however the arrows pointed ends are cut off becasue Warui cut them when she stopped believing in killing people. Whenever someone notices the cut ends, she goes straight into denial. Her famous song is Waru Waru Waru Fire* Endless Night. She has a youtube channel you can view here:
Ad blocker interference detected!
Wikia is a free-to-use site that makes money from advertising. We have a modified experience for viewers using ad blockers

Wikia is not accessible if you've made further modifications. Remove the custom ad blocker rule(s) and the page will load as expected.