| | | |
| --- | --- | --- |
| | | 3D MEGANE                   (Japanese: 3Dメガ音 3D megane) |

NAME INTERPRETATION :                                                                                                         Alias : 3D-kun

3D眼鏡 (3D Megane) 3D Glasses

3Dメガ音 (3D Megane) 3D Mega Sound

TYPE : 

UTAUloid

MODEL : 3DM01

GENDER
Male
VOICE RANGE
C2 ~ C4
RELATED CHARACTERS

Utano Akita (Claims to be a "Rachet Friend")

Mogi (Friend)

Hagane Hey ("2nd Crush")

Kiei (Friend)

AGE
16
GENRE
Pop, rock
HOMEPAGE
Homepage
WEIGHT
61.9 kg
CHARACTER ITEM
3D glasses
CREATOR

Haru Del Rey SOUNDCLOUD

HEIGHT / MEASUREMENTS
1,82 cm
VOICE SOURCE
Haru Del Rey
PICTURE LINK LIST
None.
BIRTHDAY
May 8
LIKES

3D graphics, Going to the movies, Twerking, Being a rockstar, and using some japanese slang (ww), Bara

MEDIA LIST
RELEASE DATE
None yet
DISLIKES
2D movies, uncool people, homophobes
SIGNATURE SONG

PERSONALITY:  3D-Kun is a Japanese RockStar Born in america. He's a very layed back person and is always on the coolside. He is often not taken seriously because of his maturity and looked down upon. His favorite colors are blue and white because they look cool in movies (ww).
Character Design
Hair Color:
Black and White with red and blue hair clips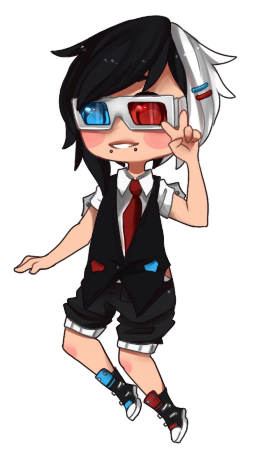 Eye Color: brown
Earphones: None
Shirt: Vest with a short sleeve shirt and a tie
Pants: Rolled up Pants to look like shorts
Shoes: Blue and red Converse shoes
Other: Wears 3D Glasses
Nationality: Japanese (American Descendance)
Voice Configuration
3D-kun's voice range is C2-C4. He can sound growly sometimes in his C2 range if not used correctly. He can also sing just a little above his range. The voicebank is encoded in Hiragana and Romaji.
VCV : [no link yet]
Facts
He's sassy, flamboyant and fabulous.
He's childish sometimes.
Goes to the movies a lot
Hates any type of glasses other than 3D Glasses.
His Glasses are prescriptioned so they help him see.
Uses "ww" instead of lol.
Usage Clause
General
Do not claim this UTAU as your own.
Do NOT impersonate the creator.
Voicebank & Songs
He can be used with anyone for songs with romance. 
He can be used in any types of songs, but if I don't find it appropriate I will ask you to remove the cover.
You do not need permission to use the voicebanks.
Please put the name of the UTAU if he's used in any of your works.
Do not use my UTAU for commercial purposes unless you have obtained permission.
Do not redistrubute the voicebank.
Do not redistribute a modified version of any of these UTAU's voicebanks.
Do not use the voicebank(s) as a Pitchloid.
Roleplay
Do not do any kind of roleplay without my permission.

This article has been written by the creator of 3D Megane.
Please do not change any information written above.
Ad blocker interference detected!
Wikia is a free-to-use site that makes money from advertising. We have a modified experience for viewers using ad blockers

Wikia is not accessible if you've made further modifications. Remove the custom ad blocker rule(s) and the page will load as expected.