AMi


(Japanese: アミ - あみ- AMi)

NAME INTERPRETATION:
アミ - AMi - Japanese for Friend)
TYPE: 'DR-Loid/REb-Loid - refers to RE-birth/born
MODEL: REb-7' -On the back of her sun hairclip - Unknown why it's 7...asides the fact that her sunclip also has 7 points...
GENDER

Fe.....male ? - Looks feminine, but is very boyish. Please refer as a girl for now...

VOICE RANGE

C4-A5

RELATED CHARACTERS

Ten Sukoshi - Fellow DR-Loid

Leon - 

Fellow DR-Loid

Yami Sukoshi - Fellow DR-Loid

AGE

Unknown...

GENRE
HOMEPAGE
HERE
WEIGHT

Unknown...

CHARACTER ITEM

7-pointed Sun hairclip

CREATOR
HEIGHT / MEASUREMENTS

5'0

152 cm

VOICE SOURCE
Deathruby
PICTURE LINK LIST
DEVIANT ART 
BIRTHDAY
Unknown
LIKES
The sun, staying warm, being happy, people, gaming,
MEDIA LIST
RELEASE DATE
-
DISLIKES

being Sad

SIGNATURE SONG
-

PERSONALITY: She's quite inquisitive, loving to find out about everything. Appearing out of nowhere with Leon to meet Yami and Yam again, the only thing Leon was allowed to say, since AMi made him swear to secrecy, was that she had met Leon in a place and she took him to see Yami (Leon's Master) again. Many say she can jump through warps but since nobody can ask Leon, Leon has no recognition of the event and says nothing when asked. She has a pinkish dragon tattoo/mark that snakes around her left arm. The sun-clip in her hair sparkles brightly when near fire or outside on sunny days. Becomes slightly dull on rainy days. She also has a beanie with dragon horns on it that changes faces depending on her mood. Nobody really knows what AMi is, though she is confirmed a female...probably. She has a very feminine look, but it is unknown in all actuality.

She is a hardcore gamer, and can be a bit competitive when it comes to playing. She switches games a lot since she always finishes them too fast. She has a pile of games and consoles in her room, which is why she doesn't let people come in while she's playing in case of interferance. She hides a game console in left pant leg, (the sewn one) and you can't see it. She doesn't show people this side of her often. Okay. At all. 
Supplemental Information
Hair color: White
'Hairdo: Short, cut just before shoulder length, with bangs held with sun-clip to the left of her face.
Eye color: Electric Magenta
Earphones: None
Dress: Black crop-top covered with one-sleeved sweater and blue jeans with right pant leg  folded up and left leg cut and sewn. Brown boots. Wears black fingerless gloves.
Nationality/Race: Unknown...
Catchphrase: "Hai, hajimari yo!!" ( "はい! 始まりよ!"- Yes, let's start!)
Favorite phrase: "Watashi wa nani? Watashi mo shiranai!" ("私は何?私も知らない" - What am I? I don't know either!" or "Watashi wa nani? Sore wa himitsu~" ("私は何?それは秘密" - What am I? That's a secret~")
Voice Configuration
Please note that all DRLoids are developed on Mac via Utau-Synth.
All voicebanks are CV at the moment. All are Hiragana oto-ed with romaji alias.
AMi is currently in Beta mode but has a 0.15 Voicebank download~
0.15 Download: 0.15 password: Hai! Hajimari yo!
Concept Art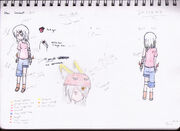 Usage Clause
Do not change any appearances that already be given out unless there is changes that have been made by the creator.
Commercial usage is permitted as long as AMi is clearly labeled and one has permission from Deathruby.
Do not violate any rights or copyright policies using this character.
Common UTAU ettiquete must be applied to AMi as well. Do not steal her design, roleplay without permission, etc.
This article is written and certified true and correct by the author of the character. The details seen here may be subject to change without prior notice.
Do not claim ownership of this character and her voicebank. 
Ad blocker interference detected!
Wikia is a free-to-use site that makes money from advertising. We have a modified experience for viewers using ad blockers

Wikia is not accessible if you've made further modifications. Remove the custom ad blocker rule(s) and the page will load as expected.