AOIIpoid: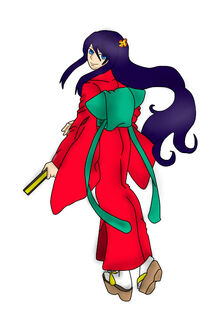 Details:
Voice range: B3~E5
Gender: Female
Age: 26 years
Weight: 50kg
Height: 160 cm
Birthday: November 12
Genre: Adaptable.
Creator: Lala-P
Voice source: AOI
Name:
AOIIpoid
(Japanese: あおいいpoid - 青いいpoid)
Her name is a joke with 'あおい/青い" (blue) - like her first version - and ''いい' (good) because she is the second try of her creator to do an UTAU, but that is better than the first. AOIIpoid is derived from AOI, her seyuu nickname.
Desing
Hair color: Dark blue.
Hairstyle: A very long and straight hair with medium bangs.
Eye color: Blue.
Item: Yellow gueisha fan.
Outfit: Like a traditional japanese outfit. A red kimono, a green obi and a pair of yellow okobo (with white japanese socks).
She is inspired in the japanese maikos.
Voicebank:
AOIIpoid's voicebank is CV and supports romaji and hiragana. Just have a japanese voicebank. Other projects was disbanded.
Download:
Cooming soon.