ASTER Kurami




アスタ クラミ

NAME INTERPRETATION:
Kurami - "Dark Beauty" Relates to Kitty KURAI. Black color scheme.

ASTER - "Star" Demon.

TYPE: OBSCURALOID
MODEL: M08
GENDER
Female
VOICE RANGE
F3~A#4
RELATED
CHARACTERS:
AGE
15/16
GENRE
Gothic
HOMEPAGE
Ayatonic Blogspot
WEIGHT
109 lbs. (49kg)
CHARACTER ITEM
Bazooka
CREATOR
AYATONIC

アヤトニック

HEIGHT
5'2" (147cm)
VOICE SOURCE
キティ・クライ (Kitty Kurai) / AYATONIC
PICTURE LINK LIST
AYATONIC
BIRTHDAY
April 27
LIKES
Weapons, Cloudy Days, Autumn
MEDIA LIST
Youtube
RELEASE DATE
6/13/17
DISLIKES
School
SIGNATURE SONG
Disappearance Addiction
ADDITIONAL INFO: She is the cousin of RYATALOID M and her male counterpart is ASTER Kurono.
Supplemental Information
ASTER Kurami is the third OBSCURALOID published on June 13, 2017 by AYATONIC. Her development began on April 27, 2017. Her birthday is April 27.
[ ]
Hair Color: Black
Headgear: None (Normal Attire)
Eyecolor: Violet
Hobbies: Collecting weapons, drawing, origami
Occupation: Student
Sexuality: Heterosexual
Race: Vampire
Nationality: Swedish / Japanese (First VB language is Japanese, AUTHOR is Swedish.)
Blood Type: AB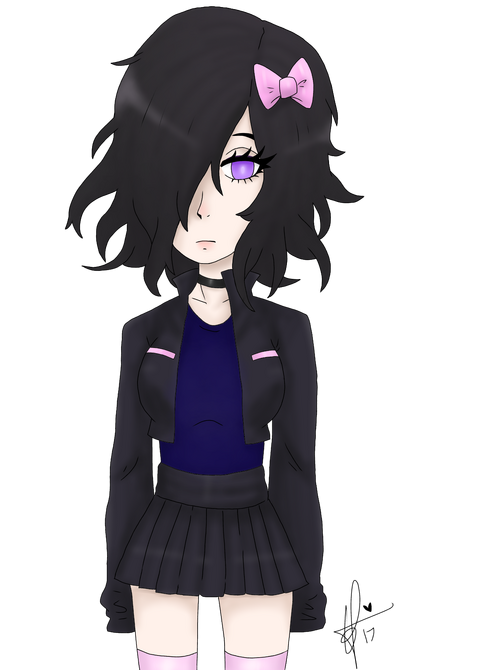 Attire: She wears a small pink bow on the right side of her bangs, and a black choker around her neck. Her navy scoop-necked shirt is shouldered by a black leather jacket, cropped at the ribs, and accompanied by minute pink markings on the front. She wears a short, black pleated skirt around her waist and pink nylon thigh-length socks. Lastly, she wears black combat boots.
Personality
Kurami is noted as studious, despite her strong dislike for school. She is fascinated by warfare and weapons, and collects them. She is calm and collected herself, and often admired for her sharp mind. She has a gloomy face and dresses in dark colors. She is polite and cautious.
(Kurami's personality is made up by her author. The user is free to depict her however they please, however. There is not a limit on her personality.)
Voicebank History
CV: Released June 13, 2017. DL [1]
CV Appends: None, unreleased.
VCV: Unreleased. (Under production)
CVVC: None, unreleased.
Configuration
CV: Uses flags g-5h30. (Remove h30 if too muffled.)
OTHER: KURONO's flag: Y0t-1200g+10h30 (Masculine sounding voice.)

Uses
The author does not limit the type of UST used for any given bank, but users MUST properly configure the bank being used, should it be within the recommended UST type or not. Restrictions must be obeyed.
CV Normal: Can be used for any UST... Is generally better for faster songs, but again, it's normal, so it can be used for any general UST with its proper flags and pitching. (No restrictions.)
Trivia
Kurami is recorded as the author's singing voice.
She is fully a vampire.
She lost her brother, Kurono, during a snowstorm accident.
She calls herself RYATALOID M's little sister.
She has a bazooka she named "Ryakku."
Usage Clause
General
DO NOT CLAIM THIS CHARACTER AS YOUR OWN.
DO NOT INSTITUTE COMMERCIAL USE OF THIS CHARACTER. This action requires permission.
DO NOT IMPERSONATE THE AUTHOR OF THIS UTAU.
Do not use this character in a hateful or illegal manner. She is free to use, please respect that.
AYATONIC does not claim responsibility for any injuries caused by the use of this voicebank.
DO NOT ABUSE THIS CHARACTER. This is different than graphic fanart.
Voicebank and Song Use
This character is free to use and the author encourages it!
Please include her name in any works she is a part of. (ASTER Kurami) In Roman letters.
Permission is not required to obtain her voicebank or use her. Again, it is encouraged.
DO NOT STEAL THIS VOICEBANK OR MODIFY IT. This is allowed ONLY for personal use and betterment of the UTAU.
DO NOT REDISTRIBUTE THIS VOICEBANK. It is NOT hard to find, link back to THIS page.
DO NOT create other UTAUs from these samples.
Please only use the author's recommended flags and pitch settings.
Fan Work
DO NOT USE THIS CHARACTER IN A WAY MEANT TO DEGRADE HIM.
Gore and R+18 content IS allowed.
Memes are allowed. (Again, do not abuse this character.)
Fanart does not need permission to be made! The author encourages it!
DO NOT CLAIM ANY FANMADE INFORMATION ABOUT THIS CHARACTER AS TRUE.
Shipping and Yuri is allowed, but all works are unofficial unless stated by the author.
Roleplay is allowed and does not require permission.
Administrative
This page is managed alone by AYATONIC. Do not edit any of its content.
References
Appearences
Ad blocker interference detected!
Wikia is a free-to-use site that makes money from advertising. We have a modified experience for viewers using ad blockers

Wikia is not accessible if you've made further modifications. Remove the custom ad blocker rule(s) and the page will load as expected.