AARON
| | |
| --- | --- |
| TYPE | CV, VCV & CVVC |
| MODEL | ❤ |
GENDER
Male
RACE
Demon
RANGE
G3 ~ D#5
AGE
18
ITEM
Scissors
CREATOR
MagicalSpackles
HEIGHT
5'6"
WEIGHT
40kg
VOICER
MagicalSpackles
BIRTHDAY
May 3
RELEASE
February 16, 2016
HOMEPAGE
N/A
LIKES
❤Reality TV

❤Spicy memes

❤Abrasive people

❤Horror movies

❤Self-deprecating jokes

DISLIKES
❤Cats

❤People that think they're better than him

❤People not laughing

at his jokes

RELATED

CHARACTERS

❤Chelsea Dunnam - Partner in crime

❤Arariel - Holy nemesis

❤Macneko - Kickball
CHARACTER INFO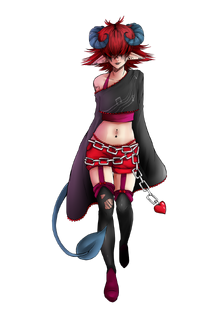 ABOUT: While he looks cute and innocent on the outside, on the inside, he's rude

and abrasive. He has an incredibly harsh temper, often yelling at people and

inanimate objects when they get in his way. Every sentence he speaks is littered

with foul language and insults, the tone always spiteful.

When he's not busy insulting people, he's often watching reality TV, drinking

energy drinks, and binge eating human food. Though he gains nothing from

this, as his main source of sustenance is souls. Aaron is very protective, but

also incredibly violent. If he has his sights set on someone, no-one else but

that person matters to him, and he will do anything, even murder those that

get in his way, to keep them around, classing himself under 'yandere'. Beware!
VOICEBANK DOWNLOAD
| | |
| --- | --- |
| CV ACT1 | Multipitch voicebank with endbreaths. |
| VCV ACT1 | CURRENTLY UNAVAILABLE. |
| DARK CV APPEND | Single pitch append with vocal fry & endbreaths. |
| DARK CVVC APPEND | Single pitch append with vocal fry & endbreaths. |
RECOMMENDED RESAMPLERS
TIPS.exe and moresampler.exe
Ad blocker interference detected!
Wikia is a free-to-use site that makes money from advertising. We have a modified experience for viewers using ad blockers

Wikia is not accessible if you've made further modifications. Remove the custom ad blocker rule(s) and the page will load as expected.