Her name is Indian for (Abi) goddess (Ovi) pretty and she is able to sing in Indian and japanese
Design
Her design is a long sleeved darkish yellow shirt, her skirt is teal and goes to her ankles, her shoes are teal and heeled (they look like heeled sneakers). Her hair is to her waist, teal and looks likes Pantys from the famous Panty and Stocking with Garderbelt anime. She wears a white cloth on her right hand for unknown reasons. Her eyes are teal and her lips show a small tint of lip gloss. Sometimes she is also seen where her wrappings on her hand have turned to water.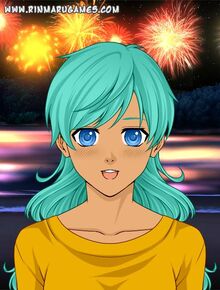 Personality
She is fun loving and never complains, she gets very upset tho when people make fun of her Indian accent. She very much likes people.
Biography
She was created to be a Indian vocaloid for the songs like Bad End Night and Crazy Night. Her accent tho as to strong and ended her singing for Vocaloid, but became a UTAUloid. But some think her accent gives the song more fun or sound.
Voice potrayals
She is much better at covers, but songs are being created for her.
Voice configuration
Her voice bank has not been released yet or yet to be created but is being worked on.
Additional info
Princess #1
"Princess #1" is about Abi being the princess of Indian, trying to be as nice as she can, till her father and mother are murder, she then becomes a dictator and begins murdering towns people and sinning, as she begins to believe there is no god.
She can also be found on the creators site here
Ad blocker interference detected!
Wikia is a free-to-use site that makes money from advertising. We have a modified experience for viewers using ad blockers

Wikia is not accessible if you've made further modifications. Remove the custom ad blocker rule(s) and the page will load as expected.