| | |
| --- | --- |
| | Aceloid 01 |

NAME INTERPRETATION:

Ace-usually meaning one or first, Aceloid was the first UTAU by Aden Ware Loid- He's a UTAUloid ('His name is all one so don't put spaces between Ace and loid. But you can call him Ace.)

TYPE: Sujiloid (UTAULOID)                                                                                                                          MODEL: 01 (0 has a blue diamond in it. The code is located on his Right shoulder)

GENDER
MALE
VOICE RANGE
F2~D4 
RELATED CHARACTERS

Edloid 0401 (also a Sujiloid)

all of his fellow Sujiloids (none have been finished)         Miku Hatsune (Idol)     Dave Okatusne (the first UTAU he worked with)

AGE
17
GENRE
none
HOMEPAGE
 
WEIGHT

'172'pounds

CHARACTER ITEM
Blue Diamond, the Ace of Diamonds
CREATOR & Wiki maker

Aden Ware (Aden 03)

HEIGHT / MEASUREMENTS

6'1" feet

VOICE SOURCE
Aden Ware (Aden 03)
PICTURE LINK LIST
DA
BIRTHDAY
4/17/14 (date made)
LIKES
Ace of diamonds, drawing, anything blue, things that glow, many different animals (can be represented by sheep), Anime,manga,comics,video games,art,cosplay, most of the vocaloids, electronics, sweets, dangerous weapons.
MEDIA LIST
RELEASE DATE

5/15/2014

DISLIKES
school, work,rap music (sorry no hate),Pervs
SIGNATURE SONGS
has none
PERSONALITY: Aceloid is a very Friendly and open person, he loves making others happy and will listen to their problems. He hates being alone in public, so he will try to bring something with him where ever he goes so he doesn't get board. He has been known to bring his note book with him. Aceloid wont be mean to people ,unless he absolutely hates them. He makes sure his friend come first. Tries not to be selfish. But if he gets made or he just snaps , he can pull out weapons his library of dangerous thing (his scythe, chainsaw, RPG and more).
Supplemental information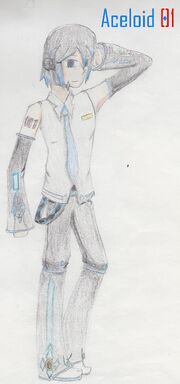 Nationality/Race
: Has none. Ace is a computer error
History: before I had made a chareacter named Ace, he was my main character that resembled me. Then after hearing about vocaloid, then UTAU, I drew Aceloid he has similar features as Ace, Hair coloation, body shape, personaity. Then in my little manga that I was writing I decided Ace, a student at a special art school, was working in a music room. A surge of power filled the computers and it copied his voice, thus creating Aceloid. that why they share the same name, voice, and apperance. But they dont know about one another.
CV
Hair: black with blue tips
Headgear: stereo headphone(black) headband(blue) with mic in diamond shape(blue)
Eye color: dark blue at top and blue at middle and bottom
Dress: basic Miku's top and arm warmer but changed up, shorts with Rin and Len append like leg warmers attached to them, Haku shoes.
[NOTE FOR APPEARANCE in ACT 2. Ace's appends do share similarities but are meant to show errors don't all look the same.]
CV
Hair: Black with blue tips
Headgear: has no headphones, or microphone
Eye color: dark blue at top and blue at middle and bottom
Dress: Wearing a nice dark blue vest with a diamond cut out in the back
Voice Configuration (Download)
You can get the voice here (most banks are not free to public)
And you can listen to the updated version of his voice down below.
You can also hear some covers on soundcoud
ACT 1.5 [So these banks were created and planned for his act 2 or were updates of act 1 banks]
Aceloid 01 [updated CV bank from act 1 with few new recording and new oto]:
ERROR [Bank is technically act 1.5 but is show along side act 2]:
ACT 2 [This act feature NEW and IMPROVED voices. Some had act 1 recording but were scrapped.]
ORIGINAL:
<iframe width="100%" height="166" scrolling="no" frameborder="no" src="https://w.soundcloud.com/player/?url=https%3A//api.soundcloud.com/tracks/223180449&amp;color=ff5500&amp;auto_play=false&amp;hide_related=false&amp;show_comments=true&amp;show_user=true&amp;show_reposts=false"></iframe>
<iframe width="100%" height="166" scrolling="no" frameborder="no" src="https://w.soundcloud.com/player/?url=https%3A//api.soundcloud.com/tracks/226706985&amp;color=ff5500&amp;auto_play=false&amp;hide_related=false&amp;show_comments=true&amp;show_user=true&amp;show_reposts=false"></iframe>
CV:
N/A
VCV:
<iframe width="100%" height="166" scrolling="no" frameborder="no" src="https://w.soundcloud.com/player/?url=https%3A//api.soundcloud.com/tracks/279948016&amp;color=ff5500&amp;auto_play=false&amp;hide_related=false&amp;show_comments=true&amp;show_user=true&amp;show_reposts=false"></iframe>
<iframe width="100%" height="166" scrolling="no" frameborder="no" src="https://w.soundcloud.com/player/?url=https%3A//api.soundcloud.com/tracks/262872301&amp;color=ff5500&amp;auto_play=false&amp;hide_related=false&amp;show_comments=true&amp;show_user=true&amp;show_reposts=false"></iframe>
LIGHT:
<iframe width="100%" height="166" scrolling="no" frameborder="no" src="https://w.soundcloud.com/player/?url=https%3A//api.soundcloud.com/tracks/253077077&amp;color=ff5500&amp;auto_play=false&amp;hide_related=false&amp;show_comments=true&amp;show_user=true&amp;show_reposts=false"></iframe>
<iframe width="100%" height="166" scrolling="no" frameborder="no" src="https://w.soundcloud.com/player/?url=https%3A//api.soundcloud.com/tracks/289500676&amp;color=ff5500&amp;auto_play=false&amp;hide_related=false&amp;show_comments=true&amp;show_user=true&amp;show_reposts=false"></iframe>
SOLID:
VCCV ENGLISH:
YOUNG: