AI HIKO


(JAPANESE: 藍彦- 彦藍- アイ ヒコ - Ai Hiko)

NAME INTERPRETATION:
アイ (Ai; from 藍, meaning Indigo Blue)
ヒコ(Hiko; from 彦, meaning Boy)

TYPE: NONE
MODEL: ID-02 - She's the second person entered the 'Estrelloids' and 'Hikoloids' as number 2

GENDER

Female

VOICE RANGE

G3 ~ D6 (Best on D#4)

RELATED CHARACTERS


Ochi Mizuamene(older Sister figure)

Omo Millennia (older Sister)


Blitz Bazooka (Talk Buddy)


Yakuaka Kirito (Protective Brother)


Ryoukuji Hiko (Special Beloved Friend )


Koneko Chikara  (Sister)


Victory Ne (Brother )

AGE

12 (Pretend to be 20)

GENRE

Any

HOMEPAGE

(none)

WEIGHT

101.4126405 Lbs (46 Kg)

CHARACTER ITEM

Giant Red Apple

CREATOR

HEIGHT

4.775262467187056 feet (145.55 cm)

VOICE SOURCE

Satsuki98 (Azalea Satya)

PICTURE LINK LIST

BIRTHDAY

31 July 1998

LIKES

Apples, nice people, chocolate, other Utau, NEKO, tuna

MEDIA LIST

RELEASE DATE

August 29. 2010

DISLIKES

Pink, dogs, mean people, meat, screaming

SIGNATURE SONG




PERSONALITY: She's kind, sweet and a little funy. She really loves to hang out with her brothers Yakuaka and Victory. She sometimes can't talk perfectly. She can change her emotions very quickly. She is very manly tomboyish towards her brothers, but Loli and cute towards her friends.
Supplemental Information
Hair color: Violet or Pink

Headgear: none

Eye color: Pink Purple

Earphones: White with a few purple with Neko Ears

Dress: short plum vest, with black shirt, white belt, short plum pants, a sleeves with lights.


Nationality/Race: Indonesian/Japanese
Fun Facts
"Don't take My Apple!" >:u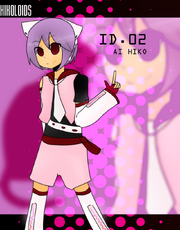 Her Favorite Quote it's , "Error! Error! Reboot Error!! Noo~~"
She doesn't like to scream. She said it's weird. But, she do it A LOT.
Her personality changes really fast.
She always around when there's a cat. She a bit dislikes robot. Even thought her brother like it.
She really love Apple so she know all the way people said Apple.
She really wanted to sing with KAITO and MEIKO.
The Author pick Apple as her item because she were eating Apple while designing Hiko.
Voice Configuration
Act 1 : unavalible for public due oto problem
Act 2 : still on BETA stage. You can try out at here
Ai Hiko Bad Append : Specialize on singing scary songs. On record. Demo Song can be heard from YouTube.
( All Act Demo can be viewed here )
Her voice are avalible both on Romaji and Hiragana. Doesn't suit few english accent but suit few of indonesian accent.
Author allowed you to use her sing and draw her as long it doesn't cause trouble with other utau and always credit the owner. This voicebank is free, that's mean NOT FOR SELLING. Don't redritribute her voicebank without Satsuki98's approval. DON'T steal Ai Hiko's VB and design. Now, feel free to use her as long it follow UTAU rules of Usage.
Certified true and correct from the Ai Hiko creator, Satsuki98, Xsatsuki98X or Azalea. The Content of this page is subject to changes without prior notices
~Satsuki98
Ad blocker interference detected!
Wikia is a free-to-use site that makes money from advertising. We have a modified experience for viewers using ad blockers

Wikia is not accessible if you've made further modifications. Remove the custom ad blocker rule(s) and the page will load as expected.