AI KIYOSHI

(Japanese: 愛清 / あいきよし / Ai Kiyoshi)

NAME INTERPRETATION:

愛 (Ai) lit. "love", common japanese surname/feminine given name, in this case used as a surname, representing his passionate way of loving (yandere)

清 (Kiyoshi) lit. "pure/clean", japanese masculine given name, in this case used as a given name, representing his innocent looks

TYPE: wind0w / FINloid

MODEL: NONE

GENDER
Male
VOICE RANGE

B2 ~ F4 (exact range is dependable on the voicebank)

RELATED CHARACTERS

Yume Aiiko (roommate, fellow wind0w)

Yume Kuro (roommate, fellow wind0w)

Kawami Kyou (obsessed crush, adoptive sister)

PERSONATILY TYPE
AFRAID OF

Losing his loved ones, cappuccino running out (humouros fear)

SEXUALITY

Straight (Heterosexual)

AGE
17
GENRE
Any
WEBSITE
TBA
WEIGHT

55kg /121.2lbs

CHARACTER ITEM
Screwdriver
CREATOR
HEIGHT

165cm /5.4ft

VOICE SOURCE
Teeri
PICTURE LINK LIST
BIRTHDAY
September 26
LIKES
Cappuccino (obsession), candy, winter, sleeping, music, going to cafés/delis
MEDIA LIST
RELEASE DATE
June 2, 2015 (g6CV)
DISLIKES
Olives (abhors), headache, horses, people who try to get close to the person he loves
SIGNATURE SONG
Window of L✿ve

PERSONALITY: Kiyoshi is a very playful and energetic boy. He is also very smart and mentally strong. Therefore, he thinks he's strong enough to survive on his own when he's feeling depressed or otherwise sad or down. This, of course, might cause trouble with Kiyoshi and the communication. He is also very sarcastic, violent and clingy, which refers to his yandere nature. He looks innocent (also refers to his name), and he can seem like a sweet guy, until someone pisses him off. Since Kiyoshi is also intentive and imaginative, he comes up with original and unique ideas to deal with situations. He also has almost like an obsession over cappuccino.
Supplemental Information
Hair color:
 Blonde
Head gear:
None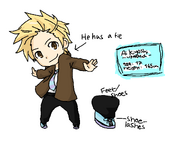 Eye colour: 
Brown
Top:
 Brown hoodie (opened),white t-shirt under it, 
light blue-light puprle tie
Bottom:
Brown loose pants (jeans?), white/grey chain, black leather belt
Shoes:
Normal black and white sneakers
Nationality/Race:
 Finnish-Japanese
Other:
 He often has his light purple cappuccino mug with him, with cappuccino still inside, while taking a small zip from time to time.
For more details, please refer to the concept art.
Voice Configuration
Kiyoshi's voicebank is still unfinished. It will be one or two pitched VCV, with a quite powerful voice and somewhat lazy consonants/pronouncing. The VCV voice will be a little bit lower than his CV. Until this VCV bank is done, there is a CV voice sample bank that can be used. (download link will be added shortly)
He has a normal one/two pitched VCV. Other appends and banks will be added later on. Upcoming/planned voicebanks (appends and acts etc.) can be found below.
Downloads and Information
Temporary CV (g6CV) LINK WILL BE FIXED SOON (this voicebank is a temporary voicebank for Kiyoshi. It's used until his real VCV voicebank is finished. It also takes the part of a normal CV voicebank, if the flag "g6" is used, since this voicebank has a little bit higher voice than his upcoming voicebanks for example VCV, SLEEPY.. etc)
Planned/future voicebanks
(note: Some of these banks are only planned to be done. There's no 100% guarantee that they will get made.)
愛清

 (VCV, "normal", one pitch, powerful voice)

愛清SLEEPY FIN 

(VCV?, finnish language, one pitch, gentle voice)

愛清

MAUL (CV, power append, one pitch, "shout appned")

愛清SLEEPY

 (VCV, gentle/whisper append, one pitch, gentle and quiet voice)
Trivia
Kiyoshi has an IQ of 111.
He gets jealous very easily.
Kiyoshi's "terror" for olives started when he was 5 years old. He tried olives for the first time and he thought it was so bad, that it almost made him threw up. He has never eaten olives again after that and each time he even smells the scent of olives, he begins to feel ill. This dislike is actually the creator's own experience, since she wanted the character to have something that links him to the creator.
The fact that Kawami Kyou is Kiyoshi's adoptive sister, doesn't bother him. Kiyoshi himself thinks, that adoptive (or any other similar kind) relatives are not related to him in any way. That's why he allowed himself to fall for her in the first place. Despite this, others around him thinks of it as "incest" or something similar, so that's slowing him down. That's what his signature song is also about (link uocoming).
Usage Clause
If you use Kiyoshi's voicebank, please credit Teeri.
Do not edit/pitch etc the voicebank.
Do not redistribute or upload as your own.
Do not claim as yours.
Recommended to link your cover or covers (

wind0w;used

) to Teeri.
Ad blocker interference detected!
Wikia is a free-to-use site that makes money from advertising. We have a modified experience for viewers using ad blockers

Wikia is not accessible if you've made further modifications. Remove the custom ad blocker rule(s) and the page will load as expected.