Aioi Piiku




相生ピーク

NAME INTERPRETATION:
相生 (Aioi; Twins) ピー (Piiku; Peak)
TYPE: UTAUloid
MODEL: RABULOID01
GENDER
Female
VOICE RANGE
D3~G5
RELATED
CHARACTERS:
AGE
18
GENRE
any
HOMEPAGE
http://bit.ly/1Gj97lk
WEIGHT
60
CHARACTER ITEM
Aioi Piiku has no item
CREATOR
Realist Juliet
HEIGHT
168cm
VOICE SOURCE
Realist Juliet
PICTURE LINK LIST
http://bit.ly/1IvMRr0
BIRTHDAY
21 Apr
LIKES
Strawberry, Coffee with milk and sugar
MEDIA LIST
Not available
RELEASE DATE
21 April 2013
DISLIKES
Rude people
SIGNATURE SONG
http://bit.ly/1Qg7rzB
ADDITIONAL INFO: Nationality: Turkish

Personality: Typical dere-dere girl. She is shy and kind.

Aioi was created before April 23rd 2013, but as we don't know when she was created, we are going to use the date of Children's day in Turkey. Her first voicebank failed. But there were lots of covers with that voicebank as the creator didn't give up on her. Her old voicebank samples: ●Magnet (The high-pitched voice)→ https://soundcloud.com/aikopiiku/aiko-piiku-aioi-hotaru-magnet ●Kagome Kagome→ https://soundcloud.com/aikopiiku/aimixaioi-piiku-kagome-kagome

After watching a tutorial about making VCV voicebanks, creator finally understood how to make a decent voicebank. She will be updated with a Turkish voicebank soon. She only have japanese VCV voicebank for now.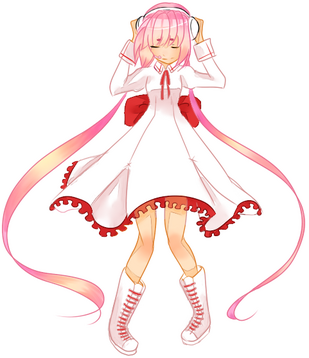 RULES
CANNOT be used for CONTENT THAT IS HATEFUL FOR SOMEONE OR A GROUP
CANNOT be used for RACIST CONTENT
CAN be used for anything else then hateful content and racist content.
CAN be used for R18 content.
CAN be used for duets, medleys.
Voicebanks
Aioi CV 0.1 *not available*
Aioi CV 0.2 *not available*
Aioi CV 0.3 *not available*
Aioi VCV 1 Download
Aioi -Peri- (VCV Multipitch) *not yet available*
Ad blocker interference detected!
Wikia is a free-to-use site that makes money from advertising. We have a modified experience for viewers using ad blockers

Wikia is not accessible if you've made further modifications. Remove the custom ad blocker rule(s) and the page will load as expected.