Aiolia Amiella Viola
Full name : Aiolia Amiella Violla Florencia Von Bertha

Type : Nostaloid 
Model: X
| | | | | | |
| --- | --- | --- | --- | --- | --- |
| Gender | Female | Voice range | D3~A#4 (but C5 is Okay) | Related Character | Aiolos Saggitaria (Very Very Distance Sister)  |
| Age | 14 | Genre | Slow song, balad, Happy, For Indonesian dia bisa nyanyi lagu ceria atau galau | Homepage | http://shironekosan.blogspot.com/ |
| Weight | 55kg | Character Item | a Teddy with lots of Stiches | Creator and Voice source | ShiroNeko-san (Aji Wibowo) |
| Height | 160cm | Likes | Being alone | Media LIst | Youtube |
| Released Date and Birthday | 14 April 2014  | Dislikes | Crowded Place, Noises, Annoying People, almost everything  | Signature Song | |
Personality : She's a Very Mysterious Silent and Cold Girl she always "Poker-face"-ing everything she prefers to be alone rather than together she got a catchphrase to "Alone is Better, because no one gonna hurt you"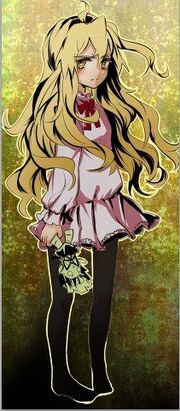 Suplemental Info
Hair color : Blonde
Head Gear : none
Clothing :  a short Pink dress with long sleeve and a red ribbon with black Stocking 
Eye color : Yelow
Nationality/Race: Unkown, but now she lived at england
Voice Configuration
A CV Voice bank of Amiella is now Released !!! 
Aiolia Amiella Viola Act 1.0 download it here
Act1.0 is a little Glitchy some voice doesnt sound right and a few Oto.ini hasnt been tuned but still a cute voice also this Voice bank has the capability to speak basic english
Usage Clause 
dont Pitch her VB if u want to, contact me at aji.wibowo332@gmail.com
use her Freely not for sale!!
if u wanna make a roleplay of her ask permission first!!
dont make erotic fanart of her!!
Dont Use her to sing Offensive songs !!!
Avoid mary-sue!!!
Dont claim her as your own Voice bank !!!
Dont make a new Voice bank out of her VB !!!
This Information is Created by the Voice Bank creator Himself so If u wanna make any changes please contact me (the Creator) first  !!!
if u done using her send me the result ok ? I would LOVE to See that <3 <3 
Her Covers from the Creator (ShiroNeko-san)
A Tale of A Trillion Years and A Night
The Wanderlast (check Signature Song)
Strobe Last ( check Signature Song )