AKAI KURONE


(Japanese: 赤い黒ね / あかいくろね - Akai Kurone)

NAME INTERPRETATION:

赤い/あかい (Akai; Red) 黒ね/くろね (Kurone; Dark Sound)

TYPE: UTAUloid

MODEL: INAKAKU'30 - INA means Indonesia, KA is a short from AKA (Red), while KU is a short from KURO (Black) and 30 took from Halloween date

GENDER
Male
VOICE RANGE
E3~C5
RELATED CHARACTERS

(Cousin)

(Adoptive Sister)

(Seniors)

AGE
12
GENRE
A/N
HOMEPAGE
NONE
WEIGHT
30 kg
CHARACTER ITEM
Knife
CREATOR
Mizucchi
HEIGHT / MEASUREMENTS
140 cm
VOICE SOURCE
Mizucchi
PICTURE LINK LIST
NONE
BIRTHDAY
October 30
LIKES
Dark, Horror & Misterious things
MEDIA LIST
NONE
RELEASE DATE
June 2
DISLIKES
Pink, Sweet things
SIGNATURE SONG
Hitorinbo Envy
PERSONALITY: Akai's known as an apathetic and harsh person. He doesn't really care about something surrounding him except himself. Akai's usually be rude and impolite to other people because he doesn't really like to socialize with others. But Akai can become nice when his cousin, Ichine Amu, around him. He acts like an innocent child whenever he's with Amu. The reason is just because he loves her (not in a "relationship" way) and he wants to make her loves him back, so sometimes being a selfish, Akai want to Amu notice him and 'only' himself. Knowing that Akai's a yandere, he would beat up whoever dare to mess with him especially his cousin mercilessly although his own cousin doesn't know this. Akai likes to 'bully-ing' Mika by scaring her with something that connected to 'horror' things. He doesn't do that in any purpose, he just feel amused watching Mika's scared face. That's why they're always arguing each other.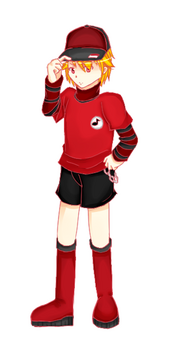 Supplemental Info
Hair color: Orange
Eye color: Red
Earphones: -
Dress: A red turtle-neck clothe with black line crossed on it sleeves, red shirt with UTAU symbol and black short
Nationality/Race: Japanese-Indonesian
Favorite phrase: "......dare to mess with me and my cousin, you'll die."
Voice Configuration
Want to Download his VB? Here:
(VERY OLD)
(RECOMMEND)
Usage Clause
There are some rules, which you MUST understanding~
DO NOT redistribute his voicebank WITHOUT author's permission 
DO NOT take or steal his voicebank and design
Voicebank are free. Not for sell. If someone is illegaly sell his voicebank, tell me
Feel free to use him, as long as it follows UTAU rules of usage
Don't forget to credits to me if you were using Akai's VB
If you have some questions feel free to ask me here
Ad blocker interference detected!
Wikia is a free-to-use site that makes money from advertising. We have a modified experience for viewers using ad blockers

Wikia is not accessible if you've made further modifications. Remove the custom ad blocker rule(s) and the page will load as expected.