Ad blocker interference detected!
Wikia is a free-to-use site that makes money from advertising. We have a modified experience for viewers using ad blockers

Wikia is not accessible if you've made further modifications. Remove the custom ad blocker rule(s) and the page will load as expected.
 

KUROIHOSHI AKANE


(Japanese:くろいほし - あかね Kuroihoshi Akune )

NAME INTERPRETATION:


ろいほし ~ (Kuroi ; Kuro - Black , Hoshi - Star )

あかね ~ (Akane - briliant red )

TYPE: MELODYLoid

MODEL: F-13 

GENDER
Female
VOICE RANGE
UNK
RELATED CHARACTERS

Shoutarou Natsuo(Genderbend voice, her Rival but her Best Friend too )

Kotone Misaki (akune's rival)

AGE

16

GENRE
Any
HOMEPAGE
Kuroihoshi Akane Blog
WEIGHT
45 Kg
CHARACTER ITEM
Cherry 
CREATOR

 ~SNChii : DA

~Shiro Neko Chii : FB

~Syifa_SNChii : Twitter

HEIGHT
160 Cm
VOICE SOURCE

ShiroNekoChii

/Syifa Nurrahima

PICTURE LINK LIST
[Deviantart]
BIRTHDAY
May, 28, 1995
LIKES

Strawberry Shortcake, Cherry, Feminime Things

MEDIA LIST
youtube
RELEASE DATE
May, 28 , 2011
DISLIKES
Calm people, people doesnt cant talking so much
SIGNATURE SONG

Sigh

I = Fantasy

PERSONALITY: Last name is Akune Kuroihoshi, now she is changed and named Akane, so kind but Cildish, her rival is Misaki cause Misaki so calm and cant talk so much,she loves to make a cakes and doing afternoon tea
Extras Releated Character
-- ask please 
Character Design
Hair color: Dark brown with red
Eye color: Red
Cloth : double cloth (Red-Yellow)
Pants: Black Pants 
Feet: White Shoes
Nationality: Indonesian - Japanese
Full :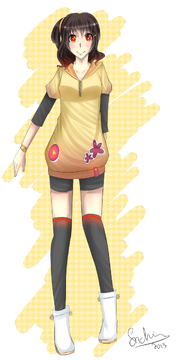 Voice Configuration
ACT 1 : http://www.4shared.com/rar/UIU8mL-B/Kuroihoshi_Akane_ACT1.html   fixed by EASYSaeri
Genderbend
Akune's genderbend : Natsuo Shoutarou .. Set flag g15
Facts
She's Childish
She likes singing
She's Tsundere
lonely girl
She's So crowed
she like Feminime things
if you want to make her song .. please notif me in facebook , twitter or deviantart !
thanks ~