Ad blocker interference detected!
Wikia is a free-to-use site that makes money from advertising. We have a modified experience for viewers using ad blockers

Wikia is not accessible if you've made further modifications. Remove the custom ad blocker rule(s) and the page will load as expected.
 

Akane Misaki


( Japanese: 

あかね美咲

 - Akane Misaki )

NAME INTERPRETATION:

あかね (Akane) - "Red Sound"


美咲 (Misaki) - "Beautiful Blossom"

TYPE: Colouroid
MODEL: CR

☆

1 - engraved on her lower back

GENDER
Female
VOICE RANGE
B5 - B3
RELATED CHARACTERS

Kasane Teto (idol)

Megpoid Gumi (idol)

Takumi Renkai (her beloved "onii-chan")

Yakumone Sora (feminine sensei / aneki)

Shirone Setsuka ("mother" / big sister figure)

Kiraine Hiashi (gaming buddy / childhood friend)

Yorune Yuuto ( unkown relationship )

AGE
14 - 15
GENRE
Unknown
HOMEPAGE
TBA
WEIGHT
42kg
CHARACTER ITEM
Peaches and sunglasses
CREATOR
apple-kuun / Junni Ringo 
HEIGHT / MEASUREMENTS
154cm
VOICE SOURCE
Apple-kuun / JunniRingo
PICTURE LINK LIST
DEVIANT ART, 
BIRTHDAY
April 12th
LIKES

Peaches,Pranks, jokes, sunglasses, games, her "family"

MEDIA LIST
RELEASE DATE
1.10.13
DISLIKES

bullies, being bored, people who ruin her jokes, spoiled people, being lonely

SIGNATURE SONG
Unknown

PERSONALITY: 

Misaki is considered as a happy-go-lucky kind of character with a big ego.

She is ,too optimistic for her own good, pranky, cheeky, hyper, slow though not completly dense and is quite tomboyish. She has a mix bewtween kamidere and teasedere triaits though is affectionate and caring to her loved ones.

Some of her actions may come off as quite perverted but in reality its just her innocent naive side.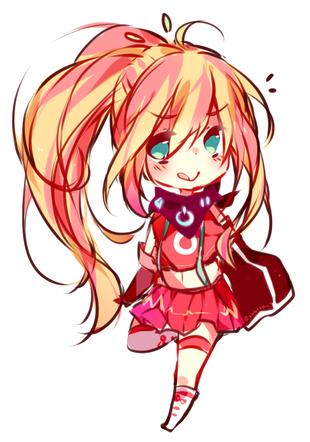 Character Concept
Hair colour: Orange with some red streaks
Headgear: Green sunglasses that floats from the one sided earphone.
Eye colour: Aqua with a tint of yellow
Clothing: Refer to the picture.
Nationality/Race: Unknown
Favorite Phrase: " おいおい!行くと再生することができます!〜"
Translation: "Hey hey! Lets go and play!~"
Voice Configuration
Her voicebank should work perfectly for both Mac and Window users...at least the last time I checked//slap
CV - Her r's are pretty powerful here and some of her syllables may sound a little off but works just fine for most japanese songs.
Download: http://www.mediafire.com/download/8pf96bbs5yxj4vr/Akane_Misaki.zip
Other Relationships
Usage Clause
Do not change her design unless just clothing for a specific song.
Please DO NOT pitchbend her or claim her as your own.
Allowed to be used freely.
Do not violate any rights or copyright policies using this character.
When uploading anything featuring Misaki, please remember to put "Akane Misaki" in the tags.
DO NOT EDIT WITHOUT CREATOR'S PERMISSION