Akira Aida

[Japanese: 

(

明) 

あきら

- 

あいだ

 - Akira Aida]

NAME INTERPRETATION:
(明)  [Akira; "intelligent" "bright" ] あいだ[Aida; "-in between" "help"]

TYPE: UTAUloid

MODEL: None

GENDER

Female

VOICE RANGE

Soprano [aprx D3-A5],

RELATED CHARACTERS

Aki [male variation by voice manipulation], 

AJ [friend; same creator and voice providor, WIP VB]

AGE

17

GENRE

Any

HOMEPAGE

None

WEIGHT

...

CHARACTER ITEM

None

CREATOR

EvilCarbonara

HEIGHT

5'3

VOICE SOURCE

EvilCarbonara 

PICTURE LINK LIST

BIRTHDAY

April 23rd, 1995

LIKES

Tea leaves

MEDIA LIST




RELEASE DATE

April 23, 2013

DISLIKES

Noise

SIGNATURE SONG

PERSONALITY: Cold and distant on the outside, but is actually much more softer than that. Has a general liking towards pets.
Supplemental Information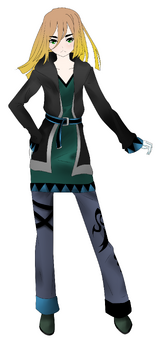 Hair color: Light orange that gradiates to yellow-blonde.
Headgear: None
Eye color: Bright Green
Clothing: Green shirt with triangular blue and black hem, dark gray jacket, blue waist belt, gray pants with crissed-croosed blac ribbons and an emblem on the left leg. Gloves.
Trivia
Voice Configuration
TECHNICAL INFORMATION

Hanako Hiro
ARCHIVE FILENAME

Akira Aida CV.rar

ARCHIVE FILESIZE

8 MB

DATE RELEASED

April 23rd, 2013

NO. OF VOICE PHONEMES

134

TOTAL UNCOMPRESSED SIZE

10.6 MB

PHONEME ENCODING

Romaji

AVERAGE FREQUENCY

204.4 Hz (G#3)

FRQ FILE PRESENCE
Yes
LANGAUGES SUPPORTED

Japanese

UNOFFICIAL SUPPORTED LANGUAGES

[Engrish]

[Filipino]

OTO.INI PRESENCE
Yes
RECORDING SOFTWARE
Audacity
LANGUAGE PARSED VIA OTO.INI
None
VOICE PROVIDER

EvilCarbonara

TECHNICAL DIRECTOR

EvilCarbonara

PREVIOUS VOICEBANKS
...
CURRENT VOICEBANKS

         ...

FUTURE RELEASES

 

         ...
Download Here:
Please contact me Here  if you have any problem with this voicebank.
Disclaimer
Akira Aida is property of Evilcarbonara, and should be accredited as such if used in the production of any piece.
Information in this page was [or should be] provided by the author of the character. The contents of this page are subject to change without prior notice. 
Ad blocker interference detected!
Wikia is a free-to-use site that makes money from advertising. We have a modified experience for viewers using ad blockers

Wikia is not accessible if you've made further modifications. Remove the custom ad blocker rule(s) and the page will load as expected.