Ad blocker interference detected!
Wikia is a free-to-use site that makes money from advertising. We have a modified experience for viewers using ad blockers

Wikia is not accessible if you've made further modifications. Remove the custom ad blocker rule(s) and the page will load as expected.
Albus Korde

(Japanese: ·アルブス - Arubusu)

NAME INTERPRETATION:

·アルブス (Albus; White)

コーデイ (Korde; Heart)

TYPE: UTAUloid

MODEL: MS-16GA

GENDER
Male
VOICE RANGE
D3 ~ A4
RELATED CHARACTERS

Anta - friend                      (friends with author)

Reizo Raine  - one of good friends (friends with author)

Amai Kasei - duet partner. (same author)

Kay Kodokuna - duet partner, one of good friends.  (same author)

Vikotoro -

brother

SoftLoid - buddy

AGE
15
GENRE
Soft Rock, Pop, Ambient, Synth-Pop, J-pop
HOMEPAGE
VKAlbus's Diary
WEIGHT

55kg

CHARACTER ITEM
Cracked Heart
CREATOR
ServerPodivan
HEIGHT

171cm

VOICE SOURCE
ServerPodivan
PICTURE LINK LIST
[deleted]
BIRTHDAY
16/04/13
LIKES
Cats, birgs, romantic stories, guitars.
MEDIA LIST
SoundCloudYouTube
RELEASE DATE
16/04/

13

DISLIKES
Dogs, math.
SIGNATURE SONG
CoreSunLightIKARI

PERSONALITY:

While being in company, he is quite cheerful and adorable guy, but when he is alone.. Well, he becomes a melancholic person, who is thinking about stuff. When his mood changes, his singing style changes too. He is quite naive, so he will always help a stranger in need.

In real life he is represented by a sick adolescent boy. He has a heart defect, so he spends all his time in a hospital. The costume he wears represents his illness (Character Item, Cardiowave, ect.).

He befriended Vikotoro in an orphanage and they became brothers, but not by blood, but by soul.
Supplemental Information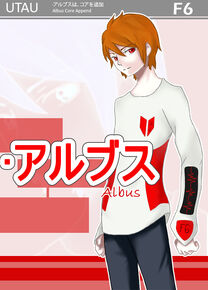 Hair color: Orange-Pink with White.
Eye color: Scarlet.
Earphones: No Headphones. 
Dress/Outfit: Albus Box art IKARI append Design
Nationality/Race: UNKNOWN.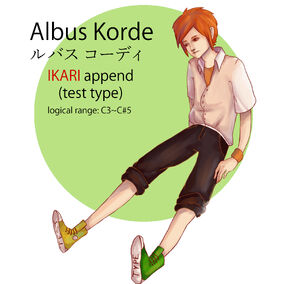 Voice Configuration
All the voicebanks are CV (core) and VCV(Append Heart, Sunlight)
WELL. His oto sucks, so download it if you want to tune him ha-ha
Maybe I'll fix him someday, BUT I promise that RaukaFatur will be with normal oto
VOICEBANK LIST
ALBUS Core

(·アルブス [Core] )

ARCHIVE FILESIZE
18 mb
RELEASE DATE
January 13, 2014
TOTAL UNCOMPRESSED SIZE
30.4 mb
PHONEME ENCODING
Romaji+Hiragana
FRQ FILE PRESENCE
YES
LANGUAGES SUPPORTED
Japanese
OTO.INI PRESENCE
YES
TUNED OTO.INI
50\50

ALBUS [Heart]

(·アルブス [Kokoro] Ver 1.0)

ARCHIVE FILESIZE
104 mb
RELEASE DATE
March 20, 2014
TOTAL UNCOMPRESSED SIZE
154 mb
PHONEME ENCODING
Romaji+Hiragana
FRQ FILE PRESENCE
YES
LANGUAGES SUPPORTED
Japanese
OTO.INI PRESENCE
YES
TUNED OTO.INI
50\50

ALBUS [SunLight]

(·アルブス [nikko] Ver 1.0)

ARCHIVE FILESIZE
16 174 124 bytes
DATE RELEASED
May 14, 2015
TOTAL UNCOMPRESSED SIZE
16 843 136 bytes
PHONEME ENCODING
Hiragana
FRQ FILE PRESENCE
YES
LANGUAGES SUPPORTED
Japanese
OTO.INI PRESENCE
YES
TUNED OTO.INI
50\50

ALBUS [RaucaFatur]

(·アルブス [RaucaFaturI])

ARCHIVE FILESIZE
85.16 MB
DATE RELEASED
August 19, 2015
TOTAL UNCOMPRESSED SIZE
120 MB
PHONEME ENCODING
Hiragana
FRQ FILE PRESENCE
YES
LANGUAGES SUPPORTED
Japanese
OTO.INI PRESENCE
YES
TUNED OTO.INI
N\A
ALBUS [Risores] in progress

(·アルブス [RisoresI])

ARCHIVE FILESIZE
657 mb
DATE RELEASED
July 22, 2016
TOTAL UNCOMPRESSED SIZE
1007 mb
PHONEME ENCODING
Hiragana
FRQ FILE PRESENCE
YES
LANGUAGES SUPPORTED
Japanese
OTO.INI PRESENCE
YES
TUNED OTO.INI
YES
Artworks