AMAI YUGURUNE

(Japanese: 甘い夕暮れ音)

NAME INTERPRETATION:
甘い (Amai) - "Sweet".
暮れ音 Yugure - (sunset) + "Ne" (sound) = Sweet sound of the sunset
TYPE: VVS. A special type of Utauloids produced in Spain. VVS means Vocal Virtual Singer.
GENDER
Female
VOICE RANGE


C#4-B5 @ 125-148 bpm

RELATED CHARACTERS

(Friend)

(Close friend)

(Friend)

(Friend)

(Friend)

(Friend)

AGE
15
GENRE


K-Pop, J-Pop, Soft Music.

HOMEPAGE
Sound Of Freedom DA
WEIGHT

57 Kg

CHARACTER ITEM

Apples

CREATOR

Sound Of Freedom

(illustrator and voice actor.)

HollowNeku

(assistant)

HEIGHT / MEASUREMENTS
168 cm
VOICE SOURCE

Sound Of Freedom

PICTURE LINK LIST
BIRTHDAY

November 22

LIKES

Spy (in a good way), draw, humor movies, cookies.

MEDIA LIST
RELEASE DATE

November 22, 2011

DISLIKES

Snails, tomatoes.

SIGNATURE SONGS
Melt

PERSONALITY: She's a kind and friendly girl.

She hates snails, in fact, she flee away when she see one.
Concept Art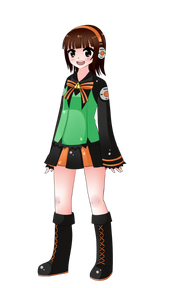 The original design was created by Sound Of Freedom.
Amai Yugurune has an old design, you can see a big diference
between the two.
There's a design created for the program, by Hollow Neku.
Voice Configuration
~ Updates ~
December 31 (2011) = Fixed oto.ini, hiragana aliases (Thanks to Haru2894)
VOICEBANK INFORMATION

NOTE: This voicebank is actually in ACT 1.
ARCHIVE FILENAME
Amai Yugurune (Voicebank).zip
ARCHIVE FILESIZE
16

MB

DATE RELEASED
22/11/11
NO. OF VOICE PHONEMES
114
TOTAL UNCOMPRESSED SIZE
-
PHONEME ENCODING

Romaji

(Hiragana Aliases)

AVERAGE FREQUENCY
C#4
FRQ FILE PRESENCE
Yes
LANGUAGES SUPPORTED
Japanese
UNOFFICIAL SUPPORTED LANGUAGES
-
OTO.INI PRESENCE
Yes
TUNED OTO.INI
Yes
LANGUAGE PARSED VIA OTO.INI
Japanese
VOICEBANK VOICER

Sound Of Freedom

TECHNICAL DIRECTOR
Neku
RECORDING SOFTWARE USED
Audacity
VOICEBANK EXTENSIONS PRESENT
-
DOWNLOAD

Here! And thanks for downloading!

(pass=freedom)
Ad blocker interference detected!
Wikia is a free-to-use site that makes money from advertising. We have a modified experience for viewers using ad blockers

Wikia is not accessible if you've made further modifications. Remove the custom ad blocker rule(s) and the page will load as expected.