AMANE CHA-CHA


(Japanese: 天音  チャーチャ )

NAME INTERPRETATION:
天音 (Amane) - means "heavenly sound"
チャーチャ(Cha-Cha'') - "Cha-Cha" was the voice provider's nickname when she was younger
GENDER
Female
VOICE RANGE
G#3-A5 @ 70-110BPM
RELATED CHARACTERS
AGE
14 (Biologically) She is actually 2000+ years old. Her exact age is unkown.
GENRE
Preferably Ballads, but is adaptable to many genres.
HOMEPAGE
Amane Cha-Cha
WEIGHT
Unknown
CHARACTER ITEM
Tomato
CREATOR
3dfantasy
Cheonsa (Voice Provider)
HEIGHT / MEASUREMENTS
4'8" feet (143 cm)
VOICE SOURCE
Cheonsa
PICTURE LINK LIST
Official Illustration + Concept Art
BIRTHDAY
June 6 (Exact Year is unknown)
LIKES
Sweets, Cute things, fruits and vegetables, K-Pop, J-pop, Christian/Gospel Songs
MEDIA LIST
RELEASE DATE
January 29, 2015
DISLIKES
Insects (bugs in general), Violence, bullies and bullying in general
SIGNATURE SONG
"How Great Thou Art"

PERSONALITY: 

Amane Cha-Cha is an Angel that was created over 2000 years ago and is a Christian. She is very close to God, her creator. She is kind-hearted and optimistic about everything. She likes to sing J-pop, J-rock, K-pop and Christian/Gospel Songs
Supplemental Information
Hair color:
Sunset sky (white, blonde, pink then light blue)
Eye color: Blue and Yellow
Dress/Outfit: White dress with purple and reddish-pink outlines and reddish pink sleeves (See Official illustration for details)
Nationality/Race: Angel
Voice Configuration
Amane Cha-Cha currently supports the Japanese language only, though she has some extra phonemes like "th" for slight english support (See Special Notation guide ). Her Voice bank is in VCV, and is recorded in two pitches. She switches to falsetto seamlessly and automatically once she sings on the note B4 and higher but can be configured manually. Her VCV voicebank works on both Hirigana and Romaji encoded USTs. Although she is newly released, she is noted to have a very smooth and clear sounding voicebank

"Amane Cha-Cha Ver 1.0" VCV Japanese
Demo Songs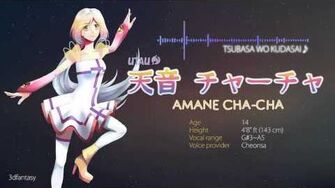 Ad blocker interference detected!
Wikia is a free-to-use site that makes money from advertising. We have a modified experience for viewers using ad blockers

Wikia is not accessible if you've made further modifications. Remove the custom ad blocker rule(s) and the page will load as expected.