Ami Ichigawa
Talk

0
4,214pages on
this wiki
 

Ami Ichigawa


(Japanese:市川アミ (ichikawa ami)

NAME INTERPRETATION:
アミ(Ami);

ami comes from Nami 波, which means wave




市川(Ichikawa)

is a derivated of 一河 (ichikawa) ,Means River City




meaning


市 川 アミ(ichikawa nami)=River City Waves

TYPE: JOKAloid
MODEL: 09X or JK01 (JOKAloid 01)
GENDER
Female
VOICE RANGE
G#1`G5
RELATED CHARACTERS

BELOW ON THIS PAGE(click here)

AGE
13 (likes 9)
GENRE
pop and spanish music
HOMEPAGE
JOKAloid's web site
WEIGHT
36 kg
CHARACTER ITEM
paintbrush(200cm) and a blueberry
CREATOR
Mania 211
HEIGHT
150 cm?
VOICE SOURCE

Yenthamí Pérez (mania211)

PICTURE LINK LIST
Deviant Art
BIRTHDAY
jun 26
LIKES
Drawing and singing
MEDIA LIST

YOUTUBE, soundcloud, nico douga

RELEASE DATE
jun 26, 2011
DISLIKES
Luka Megurine
SIGNATURE SONG
UNI
PERSONALITY: below (click here)
Supplemental Infromation
Edit
Hair color: light brown
Headgear: a blue flower
Eye color: brown
Earphones: purple and grey
Dress: her suit is almost the same as miku's and meiko's outfit but is blue in color
Nationality/Race: Japanese/Spanish/African
note:she can sing in good pronounced Japanese and also does very well in Spanish, her append extra adds Korean singing support. She is one of the first African UTAUloids

Personality
Edit
Ami is a happy and positive girl, and tends to exaggerate. Her youthful personality and appearance is accented by a flower, like a nine year old child. Her greatest obsession is Len Kagamine, She tends to obsess over KAITO and MEIKO as well, and so she treats them like their parents. Despite their resemblance, they are her idols. Ami treats everyone as her friends and she likes to draw and to feel loved.
Related characters and best friends
Edit
VOCALOIDS
Genderbend
Edit
You can get Kuro Nekone's voice by setting Ami's flag to g+19
Original song
Edit
You Tube cover: http://youtu.be/HGAAENj61sw
Languaje: spanish/english
Song: 4U (for you/para tí)
Composer (Music & Lyrics): kira0loka
Vocalist: Ichigawa Ami act 1.6 (Jap. VB and CV VB)
Art: yenthami1/mania211
.UST/Instrumental: kira0loka
The .UST will not be distributed.
Artworks
Edit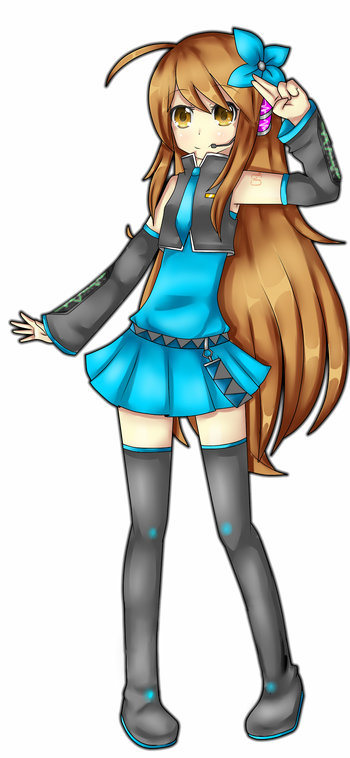 = ACT 2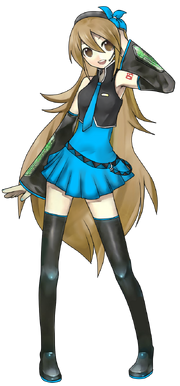 = KEI
MMD MODEL
Edit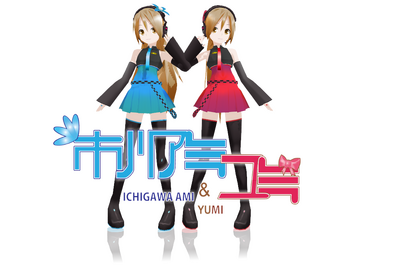 DL: mediafire]
Voice Configuration
Edit
Her voice is so easy to use, perfect for beginners, is a simple VB with good quality.
Act 1.6= removed because, she was updated
has CV only, perfect for fast songs, but has poor quality
Act 2 CV+VCV = mediafire
has CV and a little VCV, perfect for high songs and has good quality
ACTVCV standalone = her beta vb can be downloaded but is going to be updated, DL
complete VCV in japanese, with cv,vcv and cv vc, is a FULL voice Bank
ACT3F = demo here
APPENDS in beta
Edit
CALM Append = soon
FORTE Append = soon
MATURE Append = soon
OTHER ACTS:
Edit
English: old demo test
is in process,and is a CV VC lite Voice bank, must be recorded again
Spanish: I=fantasy(spanish)
is in process,and is a VCV Voice bank spanish lite
hebrew: coming soon
Chinese: coming soon
TECHNICAL INFORMATION
Edit
TECHNICAL INFORMATION act2
ICHIGAWA AMI ACT2 CV+VCV (市川アミ act2 cv+vcv)

ARCHIVE FILENAME

Ami ichigawa ACT2 CV+VCV.rar

ARCHIVE FILESIZE

???

DATE RELEASED

01/11/2012

NO. OF VOICE PHONEMES

921

TOTAL UNCOMPRESSED SIZE

93801844bytes

PHONEME ENCODING

Romaji (Hiragana aliases)

AVERAGE FREQUENCY

376,8 Hz (F#4)

FRQ FILE PRESENCE

YES

LANGUAGES SUPPORTED

Japanese+little spanish

UNOFFICIAL SUPPORTED LANGUAGES

UNKNOWN

OTO.INI PRESENCE

YES

TUNED OTO.INI

YES

LANGUAGE PARSED VIA OTO.INI

?

VOICEBANK AUTHOR

Mania211

TECHNICAL DIRECTOR

Mania211

RECORDING SOFTWARE USED

AUDACITY &


OREMO

DOWNLOAD LINK: Here

SPECIAL NOTES: works good with m4 engine (utau 4.16 resampler)

TECHNICAL INFORMATION act COMPLETE 3
ICHIGAWA AMI act2.3 COMPLETE (市川アミ act2.3 COMPLETE)

ARCHIVE FILENAME

市川アミ ACT COMPLETE.rar

ARCHIVE FILESIZE

???

DATE RELEASED

soon

NO. OF VOICE PHONEMES

1493

TOTAL UNCOMPRESSED SIZE

105192122bytes

PHONEME ENCODING

Hiragana (vcv)&romaji with hiragana aliases (cv+cv vc)

AVERAGE FREQUENCY

395.3 Hz (G4)

FRQ FILE PRESENCE

YES

LANGUAGES SUPPORTED

FULL japanese

UNOFFICIAL SUPPORTED LANGUAGES

UNKNOWN

OTO.INI PRESENCE

YES

TUNED OTO.INI

YES

LANGUAGE PARSED VIA OTO.INI

?

VOICEBANK AUTHOR

Mania211

TECHNICAL DIRECTOR

Mania211

RECORDING SOFTWARE USED

AUDACITY 

DOWNLOAD LINK: soon but has a DL beta

SPECIAL NOTES: works perfect with m4 engine (utau 4.16 resampler)