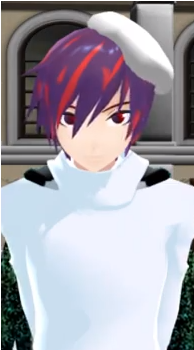 Amustikuf Iynas (wife), Amustikuf Akagno (sister), Amustikuf Alaigno (sister), Lizzie Sokora (sister), Fukitsuma Ongaku (twin brother), Amustikuf Okirom(son), Amustikuf Uknas (daughter), Amustikuf Mist (Granddaughter), Fukitsuma Roland (Father), Fukitsuma Roselia (mother)                                                                           Ukagno is the twin brother of Fukitsuma Ongaku, and he is currently a gym teacher. 
Unlike Ongaku, he never wanted his parents to love him at all, as long as his brother was there for him. When ongaku ran away as a child he ended up leaving as an emotional wreck, cutting off as many ties to his family until he can find his brother again.
His Favorite food: Strawberries
Character item: Easel/Paintbrush
Hair Color: Purple with crimson streaks
Eye color: purple and crimson
Ad blocker interference detected!
Wikia is a free-to-use site that makes money from advertising. We have a modified experience for viewers using ad blockers

Wikia is not accessible if you've made further modifications. Remove the custom ad blocker rule(s) and the page will load as expected.