NAME INTERPRETATION:Amyane: アマヤネ

Ristu: りつ

TYPE: Gyaruloid

MODEL: 01

GENDER
Female
VOICE RANGE
C4
RELATED CHARACTERS

Melony Ristu (Sister)

AGE
17
GENRE
All
HOMEPAGE
WEIGHT
147 lbs (67 kg)
CHARACTER ITEM
Hammer
CREATOR
Aku
HEIGHT
6'00393 ft (183 cm)
VOICE SOURCE
Aku
PICTURE LINK LIST
BIRTHDAY

January 3, 1995

LIKES

Hammers, Bass Clarinets

MEDIA LIST
RELEASE DATE
07/08/2012
DISLIKES

Pepsi, Coke, Gum, Death,

Clarinets

SIGNATURE SONGS
None
TECHNICAL INFORMATION

Amyane Ristu ACT 3

ARCHIVE FILENAME

Amyane Ritsu ACT 3

ARCHIVE FILESIZE

n/a MB

DATE RELEASED

Not released.

NO. OF VOICE PHONEMES

110

TOTAL UNCOMPRESSED SIZE

(N/Abytes)

PHONEME ENCODING

ROMAJI ONLY

AVERAGE FREQUENCY

C3-G#4

FRQ FILE PRESENCE

YES

LANGUAGES SUPPORTED

Japanese

UNOFFICIAL SUPPORTED LANGUAGES

NO

OTO.INI PRESENCE

YES

Optimal Flags

Y2B0F0g-2C99

LANGUAGE PARSED VIA OTO.INI

english and Romaji

VOICEBANK AUTHOR

Aku Niigata

TECHNICAL DIRECTOR

RECORDING SOFTWARE USED

'Audacity 'only

SPECIAL NOTES: Amyane Is on act 2.1, which is a CV Voicebank. Her 2.2 VCV is still being tweaked.
PERSONALITY: 'Amyane is almost a reflection of her creator. Amyane is shy and tomoboy-ish. 'Amyane is tomboyish and acts funny. She loves to play xbox360 with her guy friends, or she is either on her laptop drawing. Amyane is a grouch, she doesn't like to be bothered by her family, and is usually quiet around them. She has a very unsusal sleeping pattern, she stays up all night usually doing anything. Amyane Aku Ristu is her full name. She thinks things such as yuri and puppies adorable. She loves eurotrance music, j-pop, and alternative.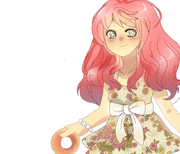 ==Amyane's Concept design==

Supplemental InformationEdit
Hair color:Pink
Headgear: None
Eye color:Blue
Earphones:None
Dress/Outfit:
Nationality/Race: American
Voice ConfigurationEdit
Amyane is a PC-based UTAUloid. She was recorded on Audacity.
Amyanes's voicebank is best used with fresamp, BKH, and sometimes on resampler. It is highly recommended if you use her voicebank, you use Fresamp for songs in the C4 range, but BKH for songs with very high notes.
Usage ClauseEdit
Roleplay and Fanworks
Videos and songs made with Amyanes's voice can use ANY of the artwork created for her that is uploaded to the deviantART account NovaHazard so long as proper credit for the artwork is given to Paramoredeeprock/NovaHazard. Amyane comes with her offical concept art in her voicebank.
Usage
Using Amyane in any certain way to promote hate and other lude things is strictly intollerated. She may be used in songs with cursing and such.
Ad blocker interference detected!
Wikia is a free-to-use site that makes money from advertising. We have a modified experience for viewers using ad blockers

Wikia is not accessible if you've made further modifications. Remove the custom ad blocker rule(s) and the page will load as expected.