| | | |
| --- | --- | --- |
| |   | Andy Summer |

TYPE: UTAUloid
MODEL: Kaeriloid

NUMBER: K4

GENDER
Male
VOICE RANGE
UNKNOWN
RELATED CHARACTERS

Ritsuka Utagi (friend)

Katsumi Hatake (It's complicated)

Rei Kibuo (friend)

Reito Kibuo (boyfriend)

Itami Hana (sister)

Shigeru Tokage (friend)

AGE
25
GENRE
N/A
HOMEPAGE
NONE
WEIGHT
95 kg
CHARACTER ITEM
N/A
CREATOR
LordyHam (used to be QueenOfHam-P)
HEIGHT
1.83 m
VOICE SOURCE
Curse-Of-Myth
PICTURE LINK LIST
N/A
BIRTHDAY

July 19th 1990

LIKES

Body-Building, spicy food, Kickboxing, Ballet-Dancing, PC-games

MEDIA LIST
N/A
RELEASE DATE

September 18th, 2011

DISLIKES
Bullying, arrogant people, most TV shows
SIGNATURE SONG

N/A

PERSONALITY:

Unlike Amy, Andy is usually a very quiet and grumpy man towards strangers. He often gets involved in fights, and he doesn't hesitate to insult people either in case they annoy him. Towards to people he likes, e.g. Amy or Reito, he's actually very nice and he laughs a lot when he's with them. Due to the fact that his sister used to be a loner he developed a sense of protection which is even stronger than the one she has; a reason why he works out that much. He thinks that he must be a real man to scare those away who want to harm people he love, that's why he never mentions that he's a male ballet dancer (although ballet is his life!) and that he has bisexual tendencies, but at the same time he feels bad when he lies about this.
He is a perfectionist, everything he starts must turn out perfectly, and he gets very angry in case they don't. That's why he usually loses interest in some things (except things like sports and computer games), because they don't turn out as he wants ... or he rages about it - depends on his mood.

Since Andy developed a mental bound with the soul of a dragon called Rubist he managed to learn how to control his anger and became much easier to deal with. Even Katsumi can now talk to him without having to fear to be ripped apart.
Supplemental Information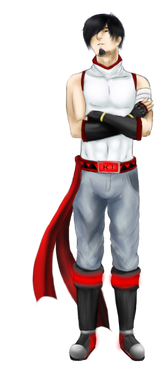 Race:  ½ Human, ½ Ruby Dragon
Preferred Hand: Right
Hair color: Black
Eye color: Red
Voicebanks
His first main voicebank is still in developement. There are currently no samples avaible.
Ad blocker interference detected!
Wikia is a free-to-use site that makes money from advertising. We have a modified experience for viewers using ad blockers

Wikia is not accessible if you've made further modifications. Remove the custom ad blocker rule(s) and the page will load as expected.