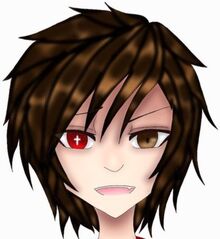 (Japanese name: 光影 - Mitsukage)
NAME INTERPRETATION:
Anino - Means "Shadow" in Filipino
Liwanag - Means "Light" in Filipino
TYPE: UTAULOID
Model: 01
GENDER: Hermaphrodite (50% Female, 90% Male)
VOICE RANGE: Unknown
RELEATED CHARACTERS: None
AGE: 14 (Physically), 11 (Mentally)
GENRE: Any
HOMEPAGE: Scratch
WEIGHT: Unknown
CHARACTER ITEM: Sketchpad
CREATOR: MikanSakura
HEIGHT: Unknown
VOICE SOURCE: MikanSakura
PICTURE LINK LIST: Coming soon
BIRTHDAY: February 21(Creation Date)
LIKES: Drawing, The indoors, Anime, Card fights, Cats, Japanese Music, Snow, Cold places
DISLIKES: The dark, Snakes, Bullies, Lots of heat, Pain, Homework, School, Exams
MEDIA LIST: Coming soon
RELEASE DATE: Unknown
SIGNATURE SONG: Electric Angel
PERSONALITY:
Anino is a cheerful girl who loves drawing. She has the looks of a 14-year-old while she acts like an 11-year-old. Anino is a bit klutz, sometimes hyper. She is also a techno geek, meaning she can help people who have problems with computers.
Anino can be somewhat loud at times, though, this only happens when she's mad so don't mess with her.
Anino's dream is to become a world wide singer.
Supplemental Information
(Main Attire)
Hair Color: Brown
Eye Color: She has heterochomia
Outfit: For default apperance, please visit the website of the creator
Nationality: Filipino-Japanese
Race: Human
Personal Quote: "I defy you, Snakeman!"
Ad blocker interference detected!
Wikia is a free-to-use site that makes money from advertising. We have a modified experience for viewers using ad blockers

Wikia is not accessible if you've made further modifications. Remove the custom ad blocker rule(s) and the page will load as expected.