| | | |
| --- | --- | --- |
| |   | Ao Futagongaku |

GENDER
Female
VOICE RANGE
TBD
RELATED CHARACTERS
AGE
18
GENRE
Any
HOMEPAGE
None
WEIGHT
110lbs
CHARACTER ITEM
Floral Bracelet
CREATOR

MollyTheCoolCat

HEIGHT
5'5"
VOICE SOURCE
MollyTheCoolCat
PICTURE LINK LIST
TBA
BIRTHDAY
July 4
LIKES
Having fun, Parties, Friends, Plants, Large gardens
MEDIA LIST
None
RELEASE DATE
August 15, 2014
DISLIKES
Being alone, bugs
SIGNATURE SONG
None
PERSONALITY: Ao is a bubbly, happy girl. She loves to be around other people, especially her twin borther, Aka. She is very fond of her garden, which is filled with many pretty flowers.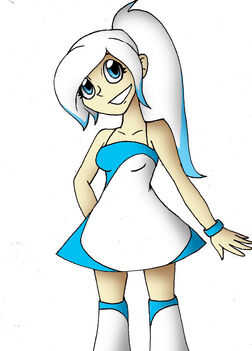 Character Design:
Hair color: White with blue tips
Eye color: Blue
Headgear: None
Headphones: None
Outfit: White and blue dress, White and blue legwarmers, blue shoes, blue bracelet
Nationality/Race: Japanese/Human
​
Voicebank:
Ao is a Japanese only voice
Encoded in Romaji with Hiragana aliases.
Released Banks
ACT 1 CV Japanese - (no download)
Planned Banks
ACT 2 CV Japanese - (Will be re-recorded soon or so help me)
Fun Facts:
Ao represents flora
Her garden has almost every type of flower in it.
She, along with her brother, is psychic.
She is a closet yaoi fangirl
She loves to read and listen to music at the same time
Ao was made as a collab project with MrMokona14, along with Aka, who is voiced by MrMokona14.
Rules
General:
Be nice to her
Nobody other than the creator can distribute her voicebank.
Nobody other than the creator can take credit for her.
Voicebank & Content
DO NOT change any sounds in her voicebank.
DO NOT change her basic design very drastically (unless it fits a certain song).
DO NOT involve her in any offensive content.
DO NOT genderbend her or make a Pitchloid of her.
Editing the oto.ini is fine, but do not distribute it.
Use in violent/gorey/horror content is fine.
Use in sexual R18+ content is fine.
If you use her in anything, be sure to tell me and link me to it!
Roleplay
Roleplay is fine, just ask the creator before you do so.
Please don't roleplay out of character.
Fanfiction/Fan Art
Use in fanart and/or fanfiction is appreciated, and be sure to send the creator a link to the art/fic that she is used in!
Yuri is fine (just nothing R18+).

All information on this page has been written and confirmed true by the creator of this UTAUloid.
Info may be subject to change without prior notice.
MollyTheCoolCat (talk) 03:52, February 2, 2014 (UTC)MollyTheCoolCat
Ad blocker interference detected!
Wikia is a free-to-use site that makes money from advertising. We have a modified experience for viewers using ad blockers

Wikia is not accessible if you've made further modifications. Remove the custom ad blocker rule(s) and the page will load as expected.