Ao eDen


(Her default nickname is eDen.)

NAME INTERPRETATION:


Her full name is Ao eDen, related to Sky and Heaven.

TYPE: UTAULOID

MODEL: N/A

GENDER
Female
VOICE RANGE

E3~B4 (A3)

RELATED CHARACTERS
e-CH0
(best friends, often hangs out together.)
AGE

13(official age)

GENRE
Any
HOMEPAGE
WEIGHT
40 kg
CHARACTER ITEM
sky umbrella
CREATOR
HEIGHT / MEASUREMENTS
159 cm
VOICE SOURCE
aoifenekku
REFERENCES
Official Art
BIRTHDAY
22/12/2013
LIKES
rain , coffee
MEDIA LIST
YT | SC
RELEASE DATE
22/12/2013
DISLIKES

loud noise,

girly thing

SIGNATURE SONG
Longing
PERSONALITY:E

den is a kuudere cool girl, scared of nothing and brave.(and thug sometime) She don't really like talking to people and she love to stay in silent. She likes keeno and nekobolo is music and love to standing and feel rain.
Character Design
Hair color: Grey blue
Eye color: Grey blue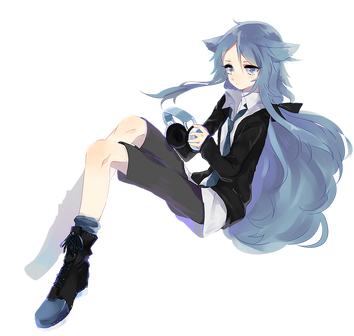 Voice Configuration
VCV Normal VB : download here
VCV Retake VB : download here(most reccomended)
Recommended Resampler : Resampler (only for normal Vb) | TIPS (for retake VB)
Best Flags So Far : Y0H0L-100T-100F10
Genderbend
coming soon
Usage Clause
Do not change any appearances that already be given out unless there is changes that have been made by the creator.
Please do not pitch the voicebank.
Allowed to be used freely, but not for commercial use.
Do not steal the character / voicebank.
Do not violate any rights or copyright policies using this character.
Please don't edit this page without Ao's permission. Thank you.
Ad blocker interference detected!
Wikia is a free-to-use site that makes money from advertising. We have a modified experience for viewers using ad blockers

Wikia is not accessible if you've made further modifications. Remove the custom ad blocker rule(s) and the page will load as expected.