Aoi Ellie Re

i En Seong
NAME INTERPRETATION
Aoi ( Japanesse : "Blue" )
Ellie ( Greek : "Eternal Goodness" )
Rei ( Japanesse : "Praise n Thank God" )
En ( Korean : Parody from "Eun" : "Blessing" )
Seong (Korean : Parody from "Seung" : "Winner" )
Type : UTAULOID n ELLIELOID
Gender
Female (sometimes girly , sometimes tomboy)
Genre of song
Kpop , Jpop , Tecno , Pop , Blue
Related Characters

Yami_Ryone : Classmate n Best friend

Kofuku_Mirai : Best friend

Ryone_Saru : Rival and sometimes being friend

Ao Ellie Rei En Seong : Brother

Kasane Teto : Friend

Hatsune Miku : Friend

SAKURA : Best Friend and Roomate

Ryouji_Kizuato : Best Friend

Yami_no_Oto : Friend

Lucius_Seine : Friend or Rival

Age
15
Voice Source
keziasherennatalia
Hometown
Seoul
Height
169 cm
Chara Item
White Sapphire sword , Star Sapphire stone
Pitcure Link
Keziasherennatalia.Deviantart.com
Weight
43 kg
Like
Sweets , Jewels , Cutie n Cool Items , exspecialy Special Items for her : star sapphire stones
Very Important for her
Usawill (her bunny doll) n Her White Sapphire sword
Birthday
November 22
Dislike
Ugly Weed n Junks , Exspecialy Horror for her : fish bone

And she Hate Akita Neru

Creator
Keziasherennatalia
Release as UTAU
April 26
Hobby
Sword training , listening music , visit friends house , making cake , playing game , watering garden
Message
Please wait my first song , kansahamnida ^^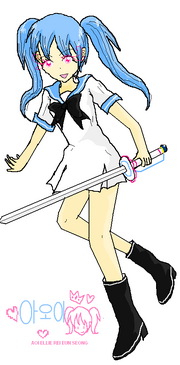 Personality
She Always hope to being idol when She Learned in Primary school , She have Wound in her right eye when She Aged 9 years old , While She was age 12 , her eye if recover and while she was age 15 , she want go traveling to japan for go to be idol with Her Brother Ao and Her Best Friend SAKURA .
She Met With UTAU n VOCALOID Character while she was enrolling to be UTAU , exspecialy Yami and friends
Sometimes , Aoi can be Yandere if she mad n she being cute if she happy .
She have weakness , Her Exam bad in her school (LOL)
She always spend her time with playing her sword and chat with her friend , Koufuku Mirai n Go to Game center n Mall .
She don't care if her friend Yami dressing as girl of boy , she only care with his feelings as friend
Aoi like wear White eye patch n Mask if she wearing cool amry or agency uniform bcuz she think being cool n secret
And REMEMBER IT ! Aoi have trouble of her soul
Supplemental
Hair Color : Light Blue , with Sparkling stars in her bottom hair (almost like Hatsune Miku )
Eye Color : Starry Pink Diamond , with Pink fairy eyelashes and side of eyes have glitter like goddes of star
Dress : White n Blue Sailor dress with black bow ( Kezia Design it with Inspirattion from Anarcy Stocking sailor version n her Middle school skirt ) n sometimes she wear eyepatch n mask and can removed too
Race : Human
Status : Student , Princess
Aoi is a Princess from Seoul and Kezia design her with combination from Hatsune Miku Append (VOCALOID2) , Kaname Madoka (Puella Magi Madoka Magica) , MAYU (VOCALOID3) , Galaco (VOCALOID3) n Stocking (Panty n Stocking).
Initially i design Aoi as Ocs from Harvest Moon Sunshine islands (Her game) n she cancelled Aoi's old design of outfit ( She think make her outfit like Amu Hinamori (Shugo Chara) School Uniform) bcuz she worry follow the design from other anime .
Her Eyes designed with Sparkling Star on her pink eye n Fairy Eyelashes bcuz She imagination for desingen her as "Fairy in disguise" .
Her Hair designed being blue n she add sparkilng stars on her bottom hair , bcuz she think for make she like Append version .
She sometimes bring he Bunny Plushie if she go to park or street.
Voice Bank
Voice bank by Kezia-Mayu (Me) , I don't only design Aoi Illustration , I being voice bank too , Now , I know to make song , But she must becareful to make her Hirigana
This is good news for UTAU's fans
Ending
Me : Yep !!! Okay , it's done , thank for watching me n Aoi chan ^^
Aoi : Ehh , umm yes ! Thank u , Arigatou , Kansahamnida , thank for watching n i wait your help for make me singing ^^