AORU KNELLER

(FORMER KUTAMI)


(Japanese: 

青ル

ネラー)

NAME INTERPRETATION:
青ル (Aoru; a mixed word of blue from 2 languages)

ネラー (Kneller; a German surname)-former Kutami

GENDER
Female
VOICE RANGE
E3~A4
RELATED CHARACTERS
HERMA Sinfonietta Tachibana (friend)
Crystal (friend)

AGE
26 (Psychically)
GENRE
Fast paced/tempo songs, Techno, Electronica, EDM, etc.
HOMEPAGE
WORK IN PROGRESS
WEIGHT
54kg(119lbs)
CHARACTER ITEM
Mop
CREATOR
Officer Diana Personal YT
Official YT
DA Soundcloud
HEIGHT
168cm(5'7ft)
VOICE SOURCE
Officer Diana
PICTURE LINK LIST
-
BIRTHDAY
December 29th 19XX
LIKES
Beers, being lazy, getting drunk, battleships, cleaning jobs, comic books.
MEDIA LIST
YOUTUBE,SOUNDCLOUD
RELEASE DATE
29 December 2013
DISLIKES
Sharks, salty food, Communism, being forced.
SIGNATURE SONG
Life Reset Button
PERSONALITY: Known for being extremely clumsy, lazy and very unlucky(always bring bad luck to others too). Also a troll and a playful girl. She's insensitive and doesn't care about stepping on other peoples' toes, this makes her rude. It's because she's lack feelings thus, she couldn't understand the emotions of others. Furthermore, she's an extrovert, loves making new friends and jokes. All she wants is just fun. 
Supplemental Information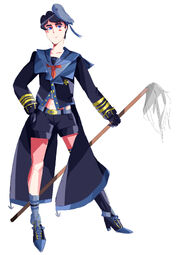 Hair colour
: Black.
Headgear: Grey sailor hat-like that written KRIEGSMARINE with a blue ribbon.
Eye colour: Blue.
Outfit: A modified Kriegsmarine uniform with shorts.
Her name was changed to Kneller because Kutami sounds awkward/weird, it's better not to ruin Japanese words.
Voice Configuration
Aoru's voicebank supports both Hiragana and romaji. She only has CV voicebank for now, a tripitch VCV voicebank is currently being working on.
Aoru is planned to have a voicebank that support English, German, Malay, Mandarin.
UFFER ACT 1 CV-JAPANESE (UFFER is a voicebank with sweet and cute voice however this voicebank stays private, one must to contact the author in order to download it.)
     *UFFER means shore in German.        
PETTY ACT1 CV-JAPANESE (PETTY is a remastered voicebank of NATIVE which is an 

original/natural voicebank recorded in the voicer's matured voice.)
*PETTY is taken from the word PETTY OFFICER.      
[W.I.P]WELLEN ACT1 VCV-JAPANESE (WELLEN is a tripitch voicebank that contains C4, E4, G4.)
       *WELLEN means wave in German.            
Usage Clause
Please follow these rules, or this voicebank might be ended if the same user has break these rules for THREE TIMES.
You can freely edit the oto.ini.
Don't claim her as yours.
Please credit me when you use her. 
Ask me first for commercial uses.
R-18 and offensive stuffs are always welcomed.
You can do many deriatives as much as you want but please credit.
Role-playing is free to be used.
All of article here are truly written and proved by the author. Any edits or changes must be asked for permission first. The details seen here may be subject to change without prior notice.
Ad blocker interference detected!
Wikia is a free-to-use site that makes money from advertising. We have a modified experience for viewers using ad blockers

Wikia is not accessible if you've made further modifications. Remove the custom ad blocker rule(s) and the page will load as expected.