Name : Ukira Aotsuki
facebook[1]
Ukira a character for the synthesizer you free UTAU
Developer: Caro Sanh
VC: Caro Sanh
Release date: 11/10/2013
gender : Female
Optimal range : c4
Features character
Female gender
Age : 17-18 approx.
Height: 1.60 m
Personality : it has personality , but you can take it as a calm and cheerful girl
Eye color: burgundy
Hair Color : Black
Accessories : has a small hearing aids, and purple fingerless gloves .
The wristband has the configurators a flag and another choice of vc and engines ( rensample , ext . )
Clothing : long shirt pose a pale lilac with endings purple and black leggings .
Footwear: Use blue canvas slippers .
Extras: usually wears a blue cap poleron
Related Characters: Urik Aotsuki ( g + 20 )
It can be taken as a brother or opposite gender
VOICEBANK
Terms of Use
Use the vancos from you at your own risk and trial ordered according to standards
Impersonating provider voice and / or plagiarism copyright is prohibited.
I redistribute the original download link allowed the developer will not respond or liable for use the indevido
Commercial use without authorization is prohibited developer
VC basic
Language: Japanese + extras phonemes
Type: CV ( consonant- vowel)
Writing : hiragana and romaji
download facebook page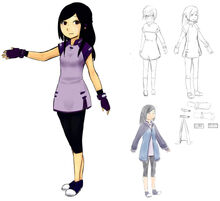 Ad blocker interference detected!
Wikia is a free-to-use site that makes money from advertising. We have a modified experience for viewers using ad blockers

Wikia is not accessible if you've made further modifications. Remove the custom ad blocker rule(s) and the page will load as expected.