APRIL

(Japanese: 四月- はるねしがつ - Shigatsu)

NAME INTERPRETATION:
四月 (Shigatsu; April, month) - Literally means 'the fourth month' in Japanese, but April would be appreciated

TYPE: UTAUloid

MODEL: NONE

GENDER
Female
VOICE RANGE
C4 - C6
RELATED CHARACTERS
AGE
14
GENRE
Unknown
HOMEPAGE
NONE
WEIGHT
101 lbs (46 kg)
CHARACTER ITEM
Dangos, School uniform
CREATOR
SunshineStrawberry
HEIGHT
5'4" feet (165 cm)
BIRTHDAY
April 3
LIKES
 Strawberrys, Shotas, Sleeping, Snuggling
RELEASE DATE
March 11 2014
DISLIKES
Dark chocolate
SIGNATURE SONG
PERSONALITY: Occasionally shy, but is usually cheerful and friendly. She can be clumsy and overly curious at times though. Loves to snuggle on to people, and is a Shotacon.
Supplemental Information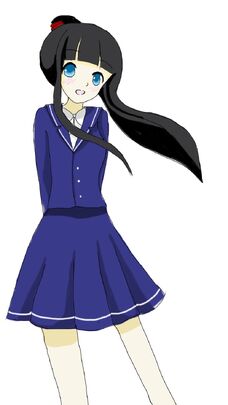 Hair color
: Black, usually tied in a ponytail
Eye color: Blue Outfit: Dark blue school uniform
Voice Configuration
She has a Romaji based voice bank, with Hiragana aliases.
Usage
Feel free to use her in role play, art, fanfictions, etc.
Oto.ini may be changed to your preferings.