APRIL

(Japanese: 四月- はるねしがつ - Shigatsu)

NAME INTERPRETATION:
四月 (Shigatsu; April, month) - Literally means 'the fourth month' in Japanese, but April would be appreciated

TYPE: UTAUloid

MODEL: NONE

GENDER
Female
VOICE RANGE
C4 - C6
RELATED CHARACTERS
AGE
14
GENRE
Unknown
HOMEPAGE
NONE
WEIGHT
101 lbs (46 kg)
CHARACTER ITEM
Dangos, School uniform
CREATOR
SunshineStrawberry
HEIGHT
5'4" feet (165 cm)
BIRTHDAY
April 3
LIKES
 Strawberrys, Shotas, Sleeping, Snuggling
RELEASE DATE
March 11 2014
DISLIKES
Dark chocolate
SIGNATURE SONG
PERSONALITY: Occasionally shy, but is usually cheerful and friendly. She can be clumsy and overly curious at times though. Loves to snuggle on to people, and is a Shotacon.
Supplemental Information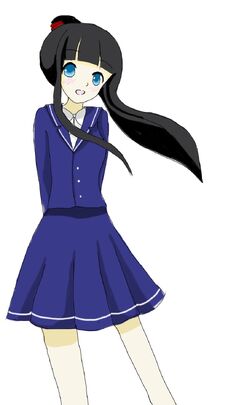 Hair color
: Black, usually tied in a ponytail
Eye color: Blue Outfit: Dark blue school uniform
Voice Configuration
She has a Romaji based voice bank, with Hiragana aliases.
Usage
Feel free to use her in role play, art, fanfictions, etc.
Oto.ini may be changed to your preferings.
Ad blocker interference detected!
Wikia is a free-to-use site that makes money from advertising. We have a modified experience for viewers using ad blockers

Wikia is not accessible if you've made further modifications. Remove the custom ad blocker rule(s) and the page will load as expected.