Sownload voice: 
https://www.4shared.com/zip/wCUT8Oav/Aries_Kodokuma.html
?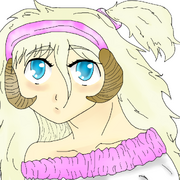 It's a UTAU , is still new , She is shy , Loves to be with others , His voice is the best with joyful songs.
Characteristics
Hair Light Blonde. Blue eyes. Wear clothes of wool. has a headphone with horns. His clothing is white and pink. His shirt comes up to her thigh. Has a shorts that goes to the knee.
Supplemental Information
'Hair color: light' Blonde
Eye color: Blue
'Accessories: 'Headphone with horns and Bracelet with Leaves
Nationality/Race: Japanese
Ad blocker interference detected!
Wikia is a free-to-use site that makes money from advertising. We have a modified experience for viewers using ad blockers

Wikia is not accessible if you've made further modifications. Remove the custom ad blocker rule(s) and the page will load as expected.