ARINA


(Japanese: ありな Arina)

NAME INTERPRETATION:
Arina (ありな) - Peace

TYPE: UTAUloid
MODEL: CP01 - Initials of creator, the first model
GENDER
Female
VOICE RANGE
N/A
RELATED CHARACTERS

Atlas (Friend)

Aura (Friend)

Carmine (Friend)

Maestra Cantabile (Friend)

AGE
18
GENRE
Any
HOMEPAGE
N/A
WEIGHT
115 lbs/ 52 kg
CHARACTER ITEM
Chocolate milk
CREATOR
HEIGHT / MEASUREMENTS
5'0 / 152 cm
VOICE SOURCE
ghostfrogaradia
PICTURE LINK LIST
Reference
DeviantART
BIRTHDAY
October 20th
LIKES
Fairs, lazy days, beaches
MEDIA LIST

N/A

RELEASE DATE
N/A, WIP
DISLIKES
Negative people, being alone
SIGNATURE SONG
N/A
PERSONALITY: Arina is a very laid back person, living life on her own time. She enjoys spending times with her friends and playing Normally she is very calm, but unknown to most, she has a very short fuse. Once set off, she's almost impossible to calm down. She has her faults, but she's an extremely hard worker. Arina is always doing her best for herself and others. Extreme extrovert.

Character Design
Hair color: Waist length, white to blue gradient.Partially up in a side ponytail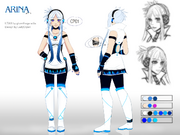 Eye color: Dark blue, purple center
Headphones: Large black and white headphones with blue illumination. Microphone extends from right ear.
Body: Short stature, slightly curvy with a large bust
Top: White collared partial dress with teal/blue sound sensors, cut at the sides to show the partial black bodysuit beneath. There is large circular hole in the center of the back.
Footwear: Over the knee boots with blue illumination
Other: Black gloves with blue illumination and two black arm bands 
Nationality/Race: No set race
Quotes
"I... am not... SHORT!"
"You just gotta try to be more open is all."
"No but... You don't understand... One minute I had a full gallon of chocolate milk, the next it was in my stomach."
"Can't we just... Y'know... Not do that, and take a nap instead?"
Voice Configuration
Current Voicebanks
N/A
Work in Progress Voicebanks: 
Japanese: CV. Aliased to hiragana and romaji. Mac and PC.
Future Voicebanks:
N/A
Extra Character Relations
AU-RA - 

It's a love-hate relationship, with one being the lead of the other's jokes. Though there is a rivalry between the two, they enjoy each other's company when bored.

Atlas - The two are very close, often have long discussions. Arina often tries to get Atlas to come out of her shell, forcing her into situations with multiple people.
Maestra Cantabile - The two are both calm and mature, so they like to spend their downtime together.
Carmine - Absolute opposites. The two get along well, but they don't seem to have much in common.
Popular Appearences
Hope.Ust: Arina has been planned to star in a small Visual Novel game called "Hope.ust" along with Atlas, Aura, Carmine, Maestra and several other over-seas Utau and Vocaloids. Set in a time where Utaus are forbidden to exist, the player maneuvers the game to uncover the key to saving the Utau program itself.
Facts
She is a Mac Utau
Arina is self-conscious about her height, using hidden heeled boots to boost it.
The triangles in her design relate to the delta symbol, as Arina was the third member of the HOPEloids in Hope.Ust
She is an extrovert, often attempting to get others to come out of their shells
Usage Clause
TERMS OF USE:
This voice bank was made for free use. Do not attempt to use this voicebank commercially in any way. 
Pitch bending this voice bank to create a new character (ex. Creating a male counterpart/genderbend) is prohibited unless otherwise stated by the author. Using g- to make the Utau sound younger and g+ to make her sound older are acceptable.
Public redistribution of this voice bank is prohibited.
Semi-sexual and violent depictions are okay.
NL, GL are okay.
R-18 scenarios involving this character/voice bank are forbidden unless otherwise stated by the author.
OFFICIAL ILLUSTRATION:
Use of the official illustrations/boxart images and references is permitted.
Changing the size, mirror reversing and other editing is allowed so long as the character remains recognizable. 
This means that images depicting Arina may not be edited to resemble or create any other character.
Crediting the DeviantArt user ghostfrogaradia is required when using these images!
Ad blocker interference detected!
Wikia is a free-to-use site that makes money from advertising. We have a modified experience for viewers using ad blockers

Wikia is not accessible if you've made further modifications. Remove the custom ad blocker rule(s) and the page will load as expected.