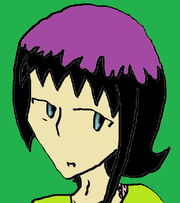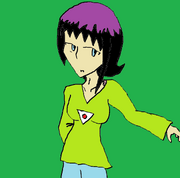 Basic Information
Name:Asumi Akete
Creator: Brian Milani or these: aishababy, or the mightyfa doesn't matter which one just still credit me if you use her
Gender: Female
Age:16
Height: 5'6
Weight:110 lbs.
Race: White (idk the name for it)
Hair Color: black but purple on top with a black curl on the side of her head
Eye Color: blue
Fun Information
wears alot of male clothing often but not all the time. Clyde Amaski's twin. represented by cheesecake
Likes: Stalking people ecspecially Ashlen, playing video games, and singing
Dislikes: yelling which is very traumatic for her and Clyde,and junk food (except cheesecake of course lol)
Other info: she has a normal CV voicebank as of right now she will receive a VCV in the future
Downloads:
Asumi Akete Act 2: www.mediafire.com/download/8ek2i7bea1d3km9/Asumi+Akete+Act+2.zip
Asumi Akete Act 3: http://www.mediafire.com/download/usxc7y79uec9u4c/Asumi+Akete+Act+3+CV.zip
ASUMI Akete Act 3.5 POWER Append: http://www.mediafire.com/download/spfylwltxbq7b5u/ASUMI+Akete+POWER+Append.zip
Asumi VCV: http://www.mediafire.com/download/bwfdjalavj7zezv/Asumi+2+Mora+VCV.zip
Asumi Akete Act 4 CV: http://www.mediafire.com/download/zv93hp8n00xg1c9/Asumi+Akete+CV+Act+4.zip
UPDATES:
Asumi's Act 3 Voicebank (CV) has been released Her Act 3.5 (CV) POWER Append Update Has been Released Asumi's VCV has been released
Asumi's Act 4 (CV) Has Been Released

Links- Brian Milani-Youtube
aishababy-utaforum
Ad blocker interference detected!
Wikia is a free-to-use site that makes money from advertising. We have a modified experience for viewers using ad blockers

Wikia is not accessible if you've made further modifications. Remove the custom ad blocker rule(s) and the page will load as expected.