ATATAKAI TAMIKO


(Japanese:暖かい民子 - Atatakai Tamiko)

NAME INTERPRETATION:
'Tamiko- Japanese name, Means "Very Beautiful Child"
'Atatakai- Warm

TYPE: UTAUloid
MODEL: T034
GENDER
Female
VOICE RANGE
G#3-C6
RELATED CHARACTERS

Kagamine Rin (Inspiration)

Megpoid (Inspiration)

Sumomo Himeko (BFF)

Samui Riku (Opposite and Duet Partner)

Atatakai Tomoki (Genderbend/Brother)

Suzushi Chiaru(Cousin)

AGE
14
GENRE
Any
HOMEPAGE
TJtheBlackCat (Updates will be posted here)
WEIGHT
50kg
CHARACTER ITEM
Sapphires or a bowl of Carbonara
CREATOR
HEIGHT / MEASUREMENTS
5'0"
VOICE SOURCE
TJ
PICTURE LINK LIST

DEVIANTARTBOXARTREFERENCE SHEETCONCEPT/OLD DESIGN SHY APPEND CONCEPT

BIRTHDAY
January 17
LIKES
Food, Piano, Art, Warm Weather, Gem Stones
MEDIA LIST
Youtube
RELEASE DATE
29/10/2012
DISLIKES

People thinking of her as small.

SIGNATURE SONG
Coward Montblanc
PERSONALITY: Tamiko is a shy and silly girl. Tamiko is very shy around new people. She can't talk to others without saying something stupid. Tamiko will eventually get along with anyone. She only opens up to her closest friends.She loves hanging out with her close friends. She loves messing with her friends and playing tricks on people even if she fails most of the time. Tamiko loves to make her friends laugh.
Supplemental Information
Hair color: Black with Blue and Green hair streaks
Eye color: Brown
Earphones: Black with an Emerald of the Left and a Sapphire on the Right.
Nationality/Race: Japanese/Android
Voice Configuration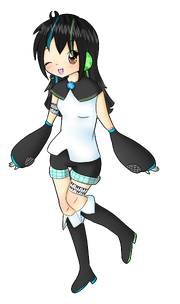 Tamiko only sings in Japanese. she has a CV voicebank. She can read hiragana and romaji.
ACT 1- here

ACT 1.1- here -Includes updated sounds. Password is utau
-Act 1.2- here- Re-otoed voicebank.
Upcoming Voicebanks:
-Act 2
-Possible Act 3
-Shy Append
-Strong Append
Usage Clause
Contact TJtheBlackCat on Deviantart if you are drawing or using her (She would like to see!).
Credit TJtheBlackCat if she is used in any way.
If posted on youtube, It should be linked to TJtheBlackCat or AFTS34.
Please do not pitch her voice.
Please contact TJtheBlackCat on Deviantart or Youtube(AFTS34) if you need help or have any questions.
Ad blocker interference detected!
Wikia is a free-to-use site that makes money from advertising. We have a modified experience for viewers using ad blockers

Wikia is not accessible if you've made further modifications. Remove the custom ad blocker rule(s) and the page will load as expected.