| | | |
| --- | --- | --- |
| |   | ATLAS OG37 |

NAME INTERPRETATION:
Atlas - A book of illustrations / Top most cervical vertebra

TYPE: OGIEN Utau (OGloid)
MODEL: OG37 - The 37th model of the OGloid series
GENDER
Female
VOICE RANGE
F3-B4
RELATED CHARACTERS

Axis (Sister), Maestra (Friend), AURA (Friend), Arina (Friend), Carmine (Friend, brother figure)

AGE
19
GENRE
Electronica, Pop, House
HOMEPAGE
OGIEN UTAU
WEIGHT
130 lbs/ 59 kg
CHARACTER ITEM
One wheeled motorcycle / Lime sherbert
CREATOR
HEIGHT / MEASUREMENTS
5'3 / 160 cm
VOICE SOURCE
LadyOgien
PICTURE LINK LIST
Reference
ConceptArt
DeviantART
BIRTHDAY
March 7th
LIKES
Silence, baking, new technology, snow
MEDIA LIST
RELEASE DATE
August 23rd
DISLIKES
Loud noises, outdated technology, hot weather
SIGNATURE SONG
Zoetrope
PERSONALITY: Atlas is extremely shy and struggles with making new friends. Once her trust is gained she easily warms up to that person. She loves to bake sweets for her friends. Atlas is also crazy about Christmas, baking absurd amounts of cookies in "honor" of the holiday season. Though she is a very calm and passive person, she is an avid biker.
Contest
Currently a contest is being held for usage of Atlas OG37 and Axis OG36. Winners get a choice between a custom plush and a custom Utau box package among other prizes. More information here.
Character Design
Hair color: 
Knee length, powder pink hair.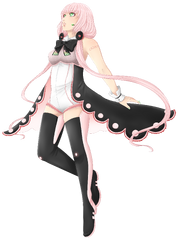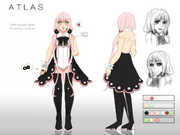 Eye color: Light green.
Headgear: Black and pink speakers are worn in the hair.
Headphones: A black, wireless microphone with green illumination in her left ear.
Body: Curvy. Average bust and chubby thighs.
Top: A dusty pink colored breast length top divided by pink metal from a white bottom, which resembles a swimsuit. The white part is embellished with pink lace down the sides of the front and at the leg. A white dress shirt collar extends from the breast top, tied with a black bow.
Footwear: Two thigh length, flat-foot boots adorned with pink stripes and half-circle lace at the top.
Other: A black cape attaches at the open back of the outfit and extends to above the knees.  Also wears a double ring on her right hand with a green 'play' button and a pink 'pause' button.
Nationality/Race: Caucasian appearance, no set race.
Voice Configuration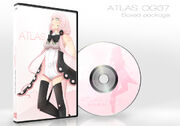 Voicebanks:
Japanese: The voice bank is VCV only, aliased to hiragana and romaji. She is meant to be user-friendly towards oversea users while providing a clear and easily managed voice.
Lullaby Append - Soft and whispery voice. VCV only. Use ↓ in the SuffixBroker to achieve this voice.
Endure Append - Shouting voice. VCV only. Use ↑ in the Suffixbroker to achieve this voice.
Future Voicebanks:
Cosmos: 10 Pitch CV - ???
English: 3 Pitch VCCV Summer 2015
Celestial: 10 Pitch VCV - ???
DEATH

☆

WISH: 7 Pitch Powerscale VCV - ??? 
Lullaby: 3 Pitch VCV + Falsetto - ???
MMD Models
An MMD model of Atlas has been created by
Ememe-nai
. She is an AMi model.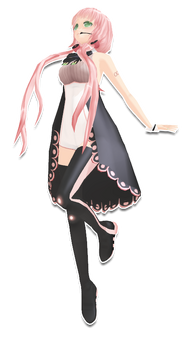 The model is up for download on her official website.
Extra Character Relations
Axis - Sister and best friend. They are two halves of a whole in both design, personality and voice.
Maestra Cantabile - Friend and colleague. The two often support one another in harmonies
AU-RA - Friend and colleague. They became friends early in their lives, so Atlas often refers to her as her younger sister
Arina - Friend and colleague. They often have long talks while styling eachother's hair
Carmine - Friend and colleague. The two are both very shy, so they get along well
Teto Kasane - Idol and inspiration. Will literally faint if she ever meets her.
Appearances
Studio Ogien: Atlas will appear in promotional videos and parodies uploaded by YouTube channel StudioOgien, as she (along with her sister, Axis) is the mascot of the channel and business.
Hope.Ust: Atlas has been planned to star in a small RPG called "Hope.ust" along with Aura, Arina, Carmine, Axis, Maestra and several other over-seas Utau and Vocaloids. Set in a time where Utaus are forbidden to exist, the player maneuvers the game to uncover the key to saving the Utau program itself.
Facts
Atlas's full name is "Attison Roselie Ogien". Her full name is mostly for the sake of trivia and stories. For labeling purposes, only her first name is to be used.
She is a mascot for Studio Ogien.
Her favorite color is pastel green.
Atlas is crazy about Christmas. She bakes absurd amounts of cookies and cakes during the Christmas season, passing them out to friends.
She is asexual.
Atlas has a pet panda named "Ogi". Ogi usually appears as a chibi, often mistaken by her friends for a stuffed animal.
She and Axis are both sophisticated androids with faux skin and organs.
Usage Clause
TERMS OF USE:
This voice bank was made for free use. Do not attempt to use this voicebank/character commercially unless prior written permission is given from Studio Ogien.
Pitch bending this voice bank to create a new character (ex. Creating a male counterpart/genderbend) is prohibited unless otherwise stated by the author. Using g- to make the Utau sound younger and g+ to make her sound older are acceptable.
Redistribution of this voice bank is prohibited.
Sexual and violent depictions are okay.
NL, GL are okay.
R-18 scenarios involving this character/voice bank are forbidden unless otherwise stated by the author.
OFFICIAL ILLUSTRATION:
Use of the official illustrations/boxart images and references is permitted as long as no profit is being made from their use.
Changing the size, mirror reversing and other editing is allowed so long as the character remains recognizable. This means that images depicting Atlas OG37 may not be edited to resemble or create any other character.
Crediting the DeviantArt user LadyOgien is required when using these images!

This page was made by the creator of Atlas OG37.
Please do not change any of the info.