Atohs Ukato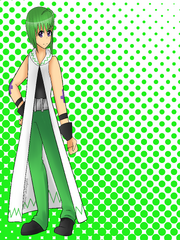 NAME INTERPRETATION:
Atohs (Shota backwards)
Ukato (Otaku backwards)
TYPE: UTAULOID
MODEL: - + (Purple – and +s stamped on his elbows)
GENDER: Male
VOICE RANGE: Unknown
RELATED CHARACTERS: Mikasa Andanine (Crush)
AGE: 15
GENRE: Generally Techno, but there are many
HOMEPAGE: YT
WEIGHT: 103lbs / 47kg
CHARACTER ITEM: Unknown
CREATOR: CrazzyToast12
HEIGHT: 5'4"
VOICE SOURCE: CrazzyToast12
PICTURE LINK LIST:
BIRTHDAY: Febuary 2
LIKES: Anime, Mikasa, singing, Technology, dancing, and staying up all night watching anime
MEDIA LIST: YOUTUBE
RELEASE DATE: Febuary 29, 2012
DISLIKES: People who think he's a girl and being called a shota
SIGNATURE SONG: Sorry For Being A Closet Otaku
PERSONALITY: Atohs is very shy and does not easily trust others. Because of this, people often mistake him for a girl, even if he does speak. Atohs is a closet otaku and he cosplays as Edward Elric from Fullmetal Alchemist. Due his lack of ability to express himself, it is unknown to most that he can sing. The only person he fully trusts is Mikasa Andanine, who he has made a habit of basically stalking. Luckily, Mikasa is very oblivious so she hasn't noticed. Atohs also tends to stay up all night purely to watch anime.
Suppemental Information
Hair color: Bright green
Eye color: Purple
Dress: See current ACT1 concept art
Nationality/Race: American
Atohs was at first going to be released as Mikasaya Andanine (Mikasa Andanine's genderbend), but Mikasaya was soon decided to share Mikasa's voicebank but pitched down. The remaining voicebank was a shota, and thus Atohs was born as a joke.
Voice Configuration
Atohs has a Romaji voicebank that will soon also be encoded in Kana.
DEMO: only available:
MMD MODEL
None
Voicebank Download
Incomplete ACT1:
Extra information
~Atohs has read over 100 manga series, his favorite being Fullmetal Alchemist
~Atohs hates having green hair
~Atohs is a never aging UTAU, so he will remain a 15-year old shota forever
Ad blocker interference detected!
Wikia is a free-to-use site that makes money from advertising. We have a modified experience for viewers using ad blockers

Wikia is not accessible if you've made further modifications. Remove the custom ad blocker rule(s) and the page will load as expected.