| | | |
| --- | --- | --- |
| |   | AXIS OG36 |

NAME INTERPRETATION:
Axis - An imaginary line about which a body rotates / Second top most cervical vertebra

TYPE: OGIEN Utau (OGloid) / HOPEloid
MODEL: OG36 - The 36th model of the OGloid series
GENDER
Female
VOICE RANGE
F3-A#4

RELATED

CHARACTERS

Atlas  (Sister), 

Yaron (Lover), 

AURA (Frenemy),

Arina (Friend), 

Carmine (Acquaintance) Maestra (Friend)

AGE
20
GENRE
Electronica, Pop, Ballad
HOMEPAGE
WEIGHT
130 lbs/ 59 kg
CHARACTER ITEM
One wheeled motorcycle / Raspberry sherbert
CREATOR
HEIGHT / MEASUREMENTS
5'7 / 170 cm
VOICE SOURCE
LadyOgien
PICTURE LINK LIST
Reference
BIRTHDAY
March 6th
LIKES
Hot weather, beaches, barbeques
MEDIA LIST
RELEASE DATE
August 23rd
DISLIKES

Cold weather, AU-RA, mini golf

SIGNATURE SONG
N/A

PERSONALITY: A very calm and sensual young woman. Very confident in her abilities, and very caring towards friends and family. She has a bit of a kinky side and loves "shaking what her mama gave her".
Character Design
Hair color: 
Knee length, wavy mint green hair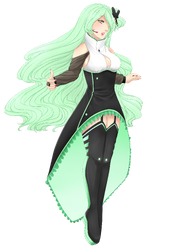 Eye color: Rose pink
Headgear: A black earpiece with pink illumination in the right ear.
Headphones: A black, wireless microphone with pink illumination in her right ear
Body: Slightly curvy. Average size bust and slightly chubby thighs
Top: A white ruched top with a collar. Exposes some cleavage.
Footwear: Thigh-high styled boots with green markings. Attach to a garter belt beneath her coat.
Other: A black cape/coat that buttons on the right side. Adorned with light green frills. She wears a bow in her hair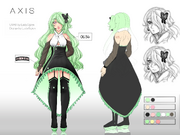 that senses sound waves.
Nationality/Race: Caucasian appearance, no set race
Voice Configuration
Voicebanks: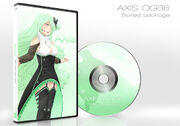 Japanese: The voice bank is to be released as VCV only, aliased to hiragana and romaji. She is meant to be user-
friendly towards oversea users while providing a clear and easily managed voice.
Lively Append - Clear and strong voice. VCV only. Use ↑ in the SuffixBroker to achieve this voice.
Rotate Append - Shouting voice. VCV only. Use * in the Suffixbroker to achieve this voice.
Future Voicebanks:
TELLURIC: 7 Pitch VCV + Falsetto (Private)/ 3 Pitch VCV + Falsetto (Public) - May 2015
REAPER

★

: 7 Pitch Powerscale VCV - ??? 
Dreamer: 3 pitch VCV + Falsetto - ???
VCCV English - ???
MMD Models
An MMD model of Axis has been created by 
Ememe-nai
. She is an AMi model.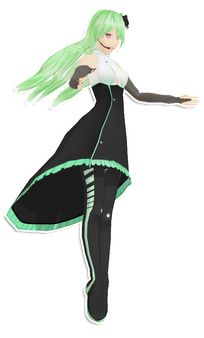 The model is up for download on her official website.
Extra Character Relations
Atlas - Sister and best friend. They are two halves of a whole in both design, personality and voice.
Kasai - Mother figure. Axis is often picking up after her.
Yaron - Boyfriend/lover. The two are the best of friends and practically inseparable.
AU-RA - Frenemy. Often compete for friends' attention.
Carmine - Friend and colleague. Teases him about his crushes.
Appearances
Studio Ogien: Axis will appear in promotional videos and parodies uploaded by YouTube channel StudioOgien, as she (along with her sister, Atlas) is the mascot of the channel and business.
Hope.Ust: Axis has been planned to star in a small RPG game titled "Hope.ust" along with Aura, Arina, Carmine, Atlas, Maestra and several other over-seas Utau and Vocaloids. Set in a time where Utaus are forbidden to exist, the player maneuvers the game to uncover the key to saving the Utau program itself.
Facts
Axis's full name is Axelia Sandrine Ogien. Her full name is mostly for the sake of trivia and stories. For labeling purposes, only her stage name is to be used.
She is a mascot for Studio Ogien.
Her favorite color is baby pink.
She is heterosexual.
Axis has a pet panda named "Ien" (EE-an). Ien usually appears as a chibi, often mistaken by her friends for a stuffed animal.
She and Atlas are both sophisticated androids with faux skin and organs.
Usage Clause
TERMS OF USE:
This voice bank was made for free use. Do not attempt to use this voicebank/character commercially unless prior written permission is given from Studio Ogien.
Pitch bending this voice bank to create a new character (ex. Creating a male counterpart/genderbend) is prohibited unless otherwise stated by the author. Using g- to make the Utau sound younger and g+ to make her sound older are acceptable.
Redistribution of this voice bank is prohibited.
Semi-sexual and violent depictions are okay.
NL, GL are okay.
R-18 scenarios involving this character/voice bank are forbidden unless otherwise stated by the author.
OFFICIAL ILLUSTRATION:
Use of the official illustrations/boxart images and references is permitted as long as no profit is being made from their use.
Changing the size, mirror reversing and other editing is allowed so long as the character remains recognizable. This means that images depicting Axis OG36 may not be edited to resemble or create any other character.
Crediting the DeviantArt user LadyOgien is required when using these images!
This page was made by the creator of Axis OG36.
Please do not change any of the info.