AYAKA TWOMBLY


(Japanese: 二宮彩風 - Ninomiya Ayaka)

NAME INTERPRETATION:
彩風 = Ayaka (Colorful wind)
二宮 = Ninomiya (Ni= Second/Two || Miya= Princess/Prince)

TYPE: TIMELOID
MODEL: II (2 in Roman numerals.)
GENDER
Female
VOICE RANGE
D#3~D5 (A#3)
RELATED CHARACTERS
Yu Sevens (Love interest/ And stalker of him)
Ayame Tenneson (Friend)
Shi-Ne (Friend)
Yokai Hikaru (Friend)
AGE
12
GENRE
Jpop
HOMEPAGE
Blog
Ayaka in the spanish wiki
WEIGHT
40 kg
CHARACTER ITEM
A katana hidden in a paintbrush.
CREATOR
SpanishPandaHero (YouTube Channel) DestinyKayChan (DeviantArt)
HEIGHT
145 cm
VOICE SOURCE
Creator's sister
PICTURE LINK LIST
CONCEPT ART (ACT2), DEVIANT ART, GOOGLE IMAGE
BIRTHDAY
October 6
LIKES
Technology, to stalk Yu Sevens, ice-creams, vegetables, rainbows, Yu Sevens, playing videogames and painting with paintbrushes.
MEDIA LIST
RELEASE DATE
October 6, 2012
DISLIKES
That Taiga Fourier reprimanding her for to stalk Yu Sevens, the meat (She's a vegetarian), sour food.
PERSONALITY: She seems like a shy, sweet and weak girl, but she isn't. She is a "yandere" girl that has a great devotion to Yu Sevens.

Although you can't belive it, she is super-strong, she lifts 100 tons only with a finger!
Supplemental Information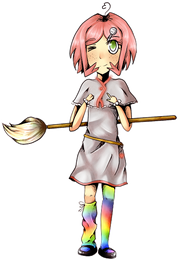 Hair color: Pink.
Headgear: A Grey hair pin with a smile face.
Eye color: Vivid green.
Dress: A Grey and Pink dress with a short poncho.
Nationality/Race: Spanish.
Voice Configuration
Ayaka Twombly is a Japanese voicebank encoded in romaji.
TECHNICAL INFORMATION

AYAKA TWOMBLY (ACT2) (二宮彩風 ACT2)
ARCHIVE FILENAME
Ayaka Twombly ACT2.rar
ARCHIVE FILESIZE
¿?
DATE RELEASED
¿?
NO. OF VOICE PHONEMES
138
TOTAL UNCOMPRESSED SIZE
43117284 bytes
PHONEME ENCODING
Romaji
AVERAGE FREQUENCY
238.3 Hz (A#3)
FRQ FILE PRESENCE
YES
LANGUAGES SUPPORTED
Japanese
UNOFFICIAL SUPPORTED LANGUAGES
Maybe Spanish, Engrish
OTO.INI PRESENCE
YES
TUNED OTO.INI
YES
LANGUAGE PARSED VIA OTO.INI
NONE
VOICEBANK AUTHOR
Creator's sister
TECHNICAL DIRECTOR
Destinykaychan
RECORDING SOFTWARE USED
Audacity (Recording) Adobe Audition (Edited)
RESAMPLER
Fresamp
FLAGS
Y0F0C50L10
DOWNLOAD LINK: Here

SPECIAL NOTES:
It's a CV. The quality of the voicebank is acceptable.
WIP - I'll finish it tomorrow 
Ad blocker interference detected!
Wikia is a free-to-use site that makes money from advertising. We have a modified experience for viewers using ad blockers

Wikia is not accessible if you've made further modifications. Remove the custom ad blocker rule(s) and the page will load as expected.