100px

BEAstLoid




REAL NAME: Afaru Defu

NAME INTERPRETATION:
Beast and utauloid = BEAstLoid (BEA is her nickname)

Her real name doesn't mean anything.

TYPE: FINloid
MODEL: None
GENDER
Female
VOICE RANGE
BEAstLoid's range is not defined
RELATED
CHARACTERS:
AGE
15
GENRE
Any
HOMEPAGE
COMING SOON!
WEIGHT
63.2 kg
CHARACTER ITEM
Pretzels
CREATOR
YanPanda / ShikiFIN
HEIGHT
163.2 cm
VOICE SOURCE
YanPanda / ShikiFIN
PICTURE LINK LIST
http://shikifin.deviantart.com/art/UTAU-MMD-BEAstLoid-Afaru-Defu-677816570
BIRTHDAY
March 5
LIKES
Dark music, meat, hugs and being noticed~
MEDIA LIST
https://www.youtube.com/channel/UC4pE3nKnvu_3aY3IgyCVFwA
RELEASE DATE
29.4.2017
DISLIKES
Undressing, being pranked, vegetables and sexual stuff
SIGNATURE SONG
COMING SOON!
ADDITIONAL INFO: Currently unavailable.
Supplemental Information
HAIR COLOUR: Strawberry Blonde
EYE COLOUR: Purple / Darkish Lavender
HEADGEAR: Electronic ears (watermelon and metal colour), Bow (watermelon and metal colour)
NATIONALITY/RACE: Finnish Android
SKIN COLOUR: Really pale, but blush is pretty strong
CLOTHES: Redish grey dress (with white collar), bunny panties.
DETAILS:
BEA's legs are electronic as well (watermelon and metal colour with black parts),
she has a interesting style with her hair going on and she has really faint rainbow freckles.
Her body type is skinny and she has a flat chest.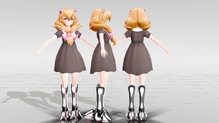 Voice Configuration
BEA has only one voicebank (CV) and it's only in Japanese. Bank is still work in progress with fixes.
DL!: https://www.mediafire.com/?rfyacusdoaqjy9s
Pass: Loraleileiyo
Her first cover:
Rules And Usage (When she is out for public)
Do not claim as yours, credits to YanPanda / ShikiFIN
You can't change her. Making fanart/MMD models with different clothes / desings are allowed.
DO NOT SELL OR REDISTRIBUTE HER MODELS OR VOICE!
Don't take her voice to your ''own'' utau or any project that includes stealing her voice.
Fanart CAN be sexual, but NO FETISH ART.
Character History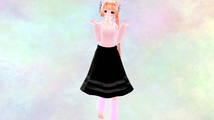 BEAstLoid was actually meant to be a historical woman who was brought to life as an robot. Her name was supposed to be Afarell Defenderr, but after a long desing hours, her name was changed to Afaru Defu. Her early desing (picture there) was pretty plain and creator wasn't happy with it at all and decided to trow this away. Half a year later, creator started to take an interest again with making a utau, so started to oto their old voicebank or rather.....tried to. Creator couldn't oto at all, even after 2 years of practice. And then year later, creator started to look for requests for otoing. There wasn't any recent or open ones at the time, so project stopped again. But after two months of searching, creator found a one person, who actually did finally oto Afaru. After a week, creator got the finished otoed voicebank and started to make a cover of a song and making a new desing for Afaru. Then Afaru's name was changed to BEAstLoid after her final desing was ready.
MMD Model
BEA has already MMD models, because her original desings were made with MMD.
The first desing was a TDA model (Teto Base by CrazyMoonChan/TDA/bobbeebs, Shirt by Lhixx, skirt by kitten-S, hair by ReggieAndCheese/Tda (bangs and backhair), Bun by Nakao/xkyarii, braid by Nidoru101/Tumidango, ears by Luluke/NiShiGara and legwarmers (creator unknown, got from shadoouge).
The final desing is a YYB model (Rin Base), dress by AneCoco, hair with bow by BEn, android ears by hiji-k and legs by AnimeNebula003.
Ad blocker interference detected!
Wikia is a free-to-use site that makes money from advertising. We have a modified experience for viewers using ad blockers

Wikia is not accessible if you've made further modifications. Remove the custom ad blocker rule(s) and the page will load as expected.