| | |
| --- | --- |
|   | Batpoid |

GENDER
Female
VOICE RANGE

TBD

RELATED CHARACTERS
AGE
18
GENRE
Any
HOMEPAGE
None
WEIGHT
130lbs
CHARACTER ITEM
Spiked baseball bat
CREATOR

MaliceCat

HEIGHT
5'6''
VOICE SOURCE
MaliceCat
PICTURE LINK LIST
Gallery
BIRTHDAY
February 4
LIKES
Sports, competition, video games, anime, racing
MEDIA LIST
Soundcloud
RELEASE DATE
February 4, 2014
DISLIKES
Losing, moving slow
SIGNATURE SONG
Abstract Nonsense
PERSONALITY: Batpoid loves competition.  She is a very sporty girl who loves to be outside. She is very competitive and will get very angry if she loses any sort of sport. She does seem to get carried away sometimes, and will even cheat to win. She's also hugely into video and board games, always going out to see and buy new games that are coming out. Bat feels the need to finish every game 100%. Though she herself is really not that great at games, she has her pet cat XYZNeko to help her through difficult parts of games.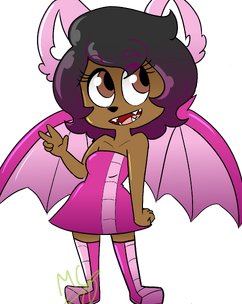 Character Design
Hair color: Black
Eye color: Brown
Headgear: None
Headphones: None
Outfit: Short pink dress, long thigh-high pink boots
Other: Pink bat ears and wings
Nationality/Race: African-American/Bat-Human Hybrid
Voicebank
Batpoid can only sing in Japanese as of now
​Released Banks
ACT 1 CV - (no download)
ACT 2 CV - ( Resampler: fresamp ;; Flags: BRE0Y0H0C10B0g-5 )
Planned Banks
ACT 3 CV Japanese (Will be recorded soon or so help me)
English bank?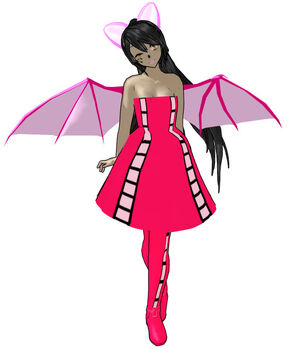 MMD Model
MMD model made by
SorasNightshade
, can be downloaded
here.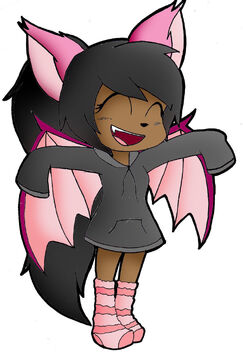 Fun Facts
She prefers to be called "Bat" rather than "Batpoid"
She is part vampire bat
Though she tried to act tough, Bat is actually quite the girly girl
Her favorite color is hot pink
Rules
General:
Be nice to her
Nobody other than the creator can distribute her voicebank.
Nobody other than the creator can take credit for her.
If you use her in anything, be sure to tell me and link me to it through my Talk page or note me on DeviantART!
Voicebank & Content
DO NOT change any sounds in her voicebank.
DO NOT change her basic design very drastically (unless it fits a certain song).
DO NOT involve her in any offensive content.
DO NOT genderbend her or make a Pitchloid of her
Editing the oto.ini is fine, but do not distribute it.
Use in violent/gorey/horror content is fine.
Use in sexual R18+ content is fine.
Roleplay
Roleplay is fine, just ask the me before you do so.
Please don't roleplay out of character.
Fanfiction/Fan Art
Use in fanart and/or fanfiction is appreciated, and be sure to send the me a link to the art/fic that she is used in!
Yuri is fine
All information on this page has been posted and confirmed true by the creator of this UTAUloid.
Info may be subject to change without prior notice.