| | | |
| --- | --- | --- |
| | | Bayonetta Dawn |

NAME INTERPRETATION:
This name appears to have no particular meaning
TYPE: VIRALloid
MODEL: 001
GENDER
Androgynous (Either male or female)
VOICE RANGE
C3 - C5
RELATED
CHARACTERS:
AGE
15
GENRE
Electronic, Pop, Rock
HOMEPAGE
TBA
WEIGHT
115 pounds
CHARACTER ITEM
Visor
CREATOR
MrMokona14
HEIGHT
5'5"
VOICE SOURCE
MrMokona14
PICTURE LINK LIST
TBA
BIRTHDAY
March 26th
LIKES
Video Games, Technology, Dumplings
MEDIA LIST
MrMokona14's YouTube Channel
RELEASE DATE
25th January, 2015
DISLIKES
VIRUS Touch, Dimsims
SIGNATURE SONG
TBA
ADDITIONAL INFO: Personality: Bayonetta is a lonely child, seeking the attention of others. Due to being born on this day, they were affected by the Melissa Virus, which infected the medical equipment used for their birth, giving them a special ability called the 'VIRUS Touch'. Whenever they touch anything mechanical, it will short circuit and break, with a sickly yellow hexagonal shape forming where they touched. Due to this, they are worried that it will affect humans eventually, which caused them to wear a full body outfit, wearing a visor to hide their face.
Supplemental Information
Eye color: Blue, with green circuit patterns.
Hair color: Green.
Headset: A blue visor, with a blue antenna on either side. The glass on the visor is green.
Outfit: A dark blue and purple shirt, with a green neck. Green gloves, worn under the shirt, which has fingerholes. Green and purple pants, and green and purple shoes. Their clothes has electrical patterns, with a picture of a headphone port on their shirt. 
Nationality/Race: Nationality unknown, human virus.
Voicebank
The flags to be used are: BRE0C10H10P90Y0. This will allow them to sound clear.
CV Japanese: http://www.mediafire.com/download/wv3cp7pyomk3pnr/Bayonetta+Dawn.zip
VIRUS Append: http://www.mediafire.com/download/9mqy3tr7bj4a3lz/Bayonneta+Dawn+VIRUS+Append.rar
Planned Banks:
MALWARE Append (Kind of like Power Append)
Bilingual (VCV Japanese and CV VC English. These will both be available separately and together.)
VCV Japanese
CV VC English
WORM Append (Kind of like Dark Append)
CLEANED Append (Kind of like Whisper Append)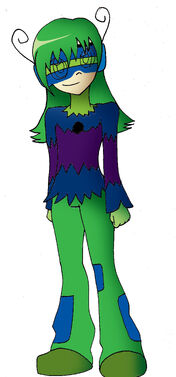 Trivia
- Their eyes are actually hexagon shape, which is why they wear a visor, which makes their eyes look normal.
- They are androgynous, and can be used as either gender.
- Bayonetta is a hardcore gamer, but thankfully, doesn't cheat in competitions.
- Bayonetta, despite being shy and lonely, is actually flirtatious, and can make the most tsundere person blush.
- Bayonetta was created in inspiration of his creator's laptop, which had a virus when he started recording notes, and fittingly made that was supposed to be a simple and androgynous character a virus.
- Bayonetta is part of the UTAU Freak-Nation group.
Ad blocker interference detected!
Wikia is a free-to-use site that makes money from advertising. We have a modified experience for viewers using ad blockers

Wikia is not accessible if you've made further modifications. Remove the custom ad blocker rule(s) and the page will load as expected.