Bethany Cole




ベサニコール

NAME INTERPRETATION:
Creator's name
TYPE: none
MODEL: none
GENDER
Female
VOICE RANGE
C#3~G#4 (Depends on voicebank)
RELATED
CHARACTERS:
AGE
17
GENRE
unspecified
HOMEPAGE
none
WEIGHT
182 lbs
CHARACTER ITEM
White Daisy, Cotton Candy
CREATOR
Bethany Cole
HEIGHT
5'2"
VOICE SOURCE
Bethany Cole
PICTURE LINK LIST
1447515965660.png
BIRTHDAY
March 8th
LIKES
Strawberries, Cotton candy, drawing, Emiko, Namine Ritsu (crush)
MEDIA LIST
https://soundcloud.com/bethany-cole-4/glory-3usi9-bethany-cole
RELEASE DATE
March 8th, 2015
DISLIKES
Bullying, pickles
SIGNATURE SONG
Glory 3usi9
ADDITIONAL INFO: Personality: Bethany is very shy, but has a great passion for singing and dancing. She was bullied as a kid, causing her to always stay away from most people, the only exception is Emiko. She met Emiko after she stopped people from bulling her. Soon after, they became best friends; practically sisters. Bethany loves to sing and dance but because of past experiences, she's extremely shy and sounds slightly muffled when she sings. She wants to be as good as the others, but doubts her singing abilities, even when people enjoy it. She has a crush on Namine Ritsu, and is afraid to admit it. She's always seen with a white daisy and she binge eats strawberries.

Catch phrase: Love has no Limits/Ai wa nani no seigen mo arimasen/愛は何の制限もありません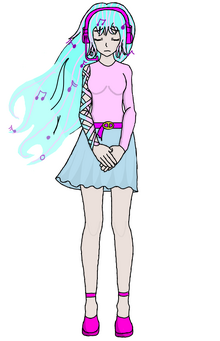 Character Design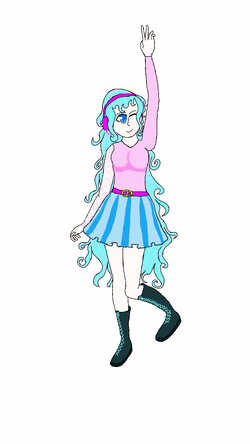 Her blue and pink hair was originally 
supposed to be a music staff and she usually dresses in light colors or pink and purple
Voicebank
To get her genderbend, Ben Cole, use g+26 on any of her voicebanks
Here are her CVVC voicebanks:
CVVC Beta-
☀https://drive.google.com/file/d/0B4kD0itiJxwQRnRrSno3aG1RZW8/view?usp=sharing
CVVC Heart-
☀https://drive.google.com/file/d/0B4kD0itiJxwQX0dfRGxRQ1U4Z1E/view?usp=sharing
CVVC Heartbroken-
☀https://drive.google.com/file/d/0B4kD0itiJxwQME05VVBWeV9mUVE/view?usp=sharing
Don't use those, they are old and bad.
All of Bethany's voicebanks are here
Includes both of her voicebanks, and a sweet append.
All are currently CV.
Be sure to read the readme files for info on how to use her!~
Works for Windows only, so adjustments are needed for Mac
romaji and hiragana coded
Ad blocker interference detected!
Wikia is a free-to-use site that makes money from advertising. We have a modified experience for viewers using ad blockers

Wikia is not accessible if you've made further modifications. Remove the custom ad blocker rule(s) and the page will load as expected.