Bobbi Navine
Talk

0
4,258pages on
this wiki
Bobbi Navine

Added by

Bobbi-chan

 

BOBBI NAVINE


(Japanese: ナヴィ音ぼっび - なヴぃねぼっび - Navine Bobi)

NAME INTERPRETATION:
It's a play on the creator's name. The creator's name is Bobbi Navin.
TYPE: WOOFSOUND
MODEL: WS-1
GENDER
Female
VOICE RANGE
C3~C5 (Best at C4. Can sing at almost every range with the Y0 flag.)
RELATED CHARACTERS

Maki Watase (Friend)

Abz Batone (Best friend)

AGE
15
GENRE
Capable of singing any song from any genre.
HOMEPAGE
WOOFSOUND
WEIGHT
N/A
CHARACTER ITEM
Sketchbook
CREATOR
LuckyStarNo1Fan/UTAUBobbi
HEIGHT
Approximately 5.4ft - 5.5ft
VOICE SOURCE

'LuckyStarNo1Fan/'UTAUBobbi

PICTURE LINK LIST
CONCEPT ART, PIAPRO, PIXIV, DEVIANT ART, GELBOORU, GOOGLE IMAGE, PHOTOBUCKET
BIRTHDAY

December 31

(Annouced 15 May 2010)

LIKES
Dancing, Videogames, Singing, Drawing, Playing, the Internet, Eating, Dogs (Especially Malamutes, German Shepards and Huskys), Fighting
MEDIA LIST
/search/ナヴィ音ぼっび NICO NICO DOUGA, YOUTUBE
RELEASE DATE
July 14, 2010
DISLIKES
The colour green, too much pink, Twilight, being bored, sleeping, eating too much chocolate.
SIGNATURE SONG

Last Battle

(First original song: Musicalien)

PERSONALITY: Bobbi is a very hyper young girl, with a very sad past. As a result, her past left her mentally unstable. One wrong move and she will fling into a psychotic rage. She will usually be very happy and friendly to others. She loves to play videogames, sing, dance and draw pictures all day.
Supplemental Information
Edit
Hair colour: Blonde (Yellow)

Headgear: Small grey hat with a blue ribbon around the hat with a quaver note tucked into the ribbon.

Eye color: Bright green.

Earphones: Bobbi has this earpiece attached to her left ear: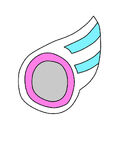 Dress/Outfit: Grey short top with a blue ribbon attached, pink transparent sleeves attached the the top, blue and purple skirt and a pink thin belt tied around the skirt with grey and purple shorts underneath, grey sleeves on the arms (Keyboard pattern on the left sleeve.), pink and red-ish pink striped stockings (Left rolled down, right still up high like it should be), blue and pink trainers (or sneakers for those non-British readers). Her casual outfit is just purple and pink trainers, grey boot flare jeans and a blue hoodie. Her hair in the causual version is down and in the UTAU outfit version, it is up in a ponytail with some short hair spiking out from the bottom as those bits of hair can't reach the ponytail.

Others: Bobbi has a hair curl (like Italy's from Hetalia) on the left side of her head. Her left bang of her hair is longer than the right one.

Nationality/Race: White British

Voice Configuration
Edit
 Bobbi's V.2 can be downloaded here:
http://www.4shared.com/rar/Z6ktvNwm/Bobbi_V2.html?
Bobbi's Soft Append V.1 can be downloaded here:
http://www.4shared.com/rar/BPmnCeLz/Bobbi_Soft_Append.html?
Bobbi will be getting tons of VBs made soon because her creator will be getting a new headset, so look forward to all of her Appends and even a Multipitch VCV! (The VCV that her creator currently uses will be scrapped and re-done as a Multipitch.)