Bunsen Berubetto




(ぶんせん べるべと)

NAME INTERPRETATION:
His first name is a mix of Bunny and a misspelling of zen. His last name is japanese for Velvet.
TYPE: Bunloid
MODEL: 0001
GENDER
Male
VOICE RANGE
C3 - C5
RELATED
CHARACTERS:
AGE
20
GENRE
N/A
HOMEPAGE
N/A
WEIGHT
46kg
CHARACTER ITEM
Carrot Sword
CREATOR
MrMokona14
HEIGHT
4'
VOICE SOURCE
MrMokona14
PICTURE LINK LIST
N/A
BIRTHDAY
November 6th
LIKES
Carrots, Being a hero, Fighting Monsters, Being called cool, Yuki Sakura
MEDIA LIST
MrMokona14's Youtube Channel
RELEASE DATE
October, 2014
DISLIKES
Leeks, Not being seen as a hero, Fighting his friends, Being called cute
SIGNATURE SONG
TBA
ADDITIONAL INFO: Due to watching so many movies, he aspires to be a hero, and to protect the world from monsters. Bunsen dislikes to fight his friends, which his best friend Yuki is proud of.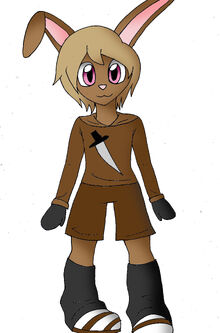 Supplemental Information
Eye Color: Neon Pink.
Hair Color: Creamy Brown.
Headset: N/A
Outfit: Brown hoodie, with a large black sword on the front, and a grey shield on the back. He wears brown shorts. He wears black gloves, and black legwarmers. He wears brown and white sneakers.
Nationality/Race: Canadian. Rabbit.
Voicebanks
Bunsen's flags are contained in a txt file in the file. ACT1:
ACT 1 (Fixed OTO):
MikuMikuDance Model
Bunsen now has a downloadable and usable model for MMD. It is available for download here:
Trivia
He was based on an original character from MrMokona14, based on Bonnie the Bunny from Five Nights At Freddy's, but made tame.
Due to being taught to speak by Aka, he speaks in Japanese. Zana is working on teaching him English.
Yuki has made him wear a dress before. Bunsen didn't say no.
Bunsen is short for his age, being 4 foot even at the age of 20.
Bunsen is pansexual, which means he is interested in anyone, as long as he likes their personality.
Important Stuff
Do not claim Bunsen as yours!
Credit MrMokona14 in covers if you use Bunsen.
MrMokona14 doesn't mind if you RP as Bunsen, just don't get too over the top as him.
Ad blocker interference detected!
Wikia is a free-to-use site that makes money from advertising. We have a modified experience for viewers using ad blockers

Wikia is not accessible if you've made further modifications. Remove the custom ad blocker rule(s) and the page will load as expected.