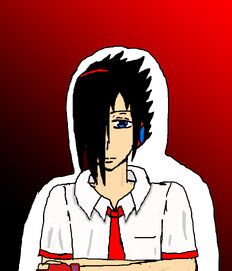 Name Interpretation:
CHAOS
Japanese カオス(Kaosu)
Gender: Male
voice range:Unknown
Realshionships: SHADOW (girlfriend)
Kyoko Midori (friend)
Vikotoro Nazuki (friend)
Elliot Tairane (enemy)
Rei Yurene (not sure what to think of him tries to avoid him at all costs)
Voicer: KeiichiSora999
Creator:KeiichiSora999
Type:Direloid
Model:0001A
Age: presumed 200 years old
Genre: Rock, Anything
Homepage: http://www.youtube.com/user/KeiichiSora999?feature=mhee
the Direloid Blog
Weight: 120 lbs ( 60 kgs)
Height: 6ft 3in
Birthday: July 5, 2011
Likes: Chocolate
Blood
SHADOW
Macabre
Novels
Singing
anything black or red
Dislikes: Elliot Tairane
the color pink
the Twilight saga
Vampire stereotypes
ignorant people
Media List: YOUTUBE
Signature Song:
Ad blocker interference detected!
Wikia is a free-to-use site that makes money from advertising. We have a modified experience for viewers using ad blockers

Wikia is not accessible if you've made further modifications. Remove the custom ad blocker rule(s) and the page will load as expected.