| | | |
| --- | --- | --- |
| | | CRiM |

NAME INTERPRETATION:

CRiM - Scene name (From the word Crimson)

Crim Ribetto - "Real" name 

TYPE: UTAUloid / CR1Loid / SHINKULoid - CRIMSONLoid

MODEL: C'-DC143C '(Crimson: Hex triplet DC143C)

GENDER

Female

VOICE RANGE

E3 - D6 (Recomended)

RELATED CHARACTERS

Fuyumi Shinkune(Close friend)

'MeMu '(Hates)

AGE

15

GENRE
Best for Rock and Pop (sometimes rap)
HOMEPAGE
 NONE
WEIGHT
46 Kg
CHARACTER ITEM
CREATOR
Crimson - CrimsonRedSound
HEIGHT / MEASUREMENTS

167 cm = 65 inches

VOICE SOURCE
Crimson 
PICTURE LINK LIST
deviantART
BIRTHDAY
25 April
LIKES

Writing, Puzzles

MEDIA LIST
RELEASE DATE

Yet to be released

DISLIKES

Children, candy, "Bacteria"

SIGNATURE SONG
Rolling Girl (First song)

PERSONALITY: CRiM is a hot tempered girl with a violent personality. She will hit you if you get too close or try to touch her in any way due to her Bacteriophobia. (That's why she wear gloves...) When she was young she always wore pink clothes and frilly dresses. But due to her mother once pushing her into a deep mud puddle by mistake she got her Bacteriophobia. That's why she hates babies, children or any kind of contact with other people. She also stopped wearing dresses or too colorful clothes. 

The only one she allows to even poke at her is her good friend Fuyumi. She also helps her to calm down when CRiM's having an outburst. Other than that CRiM haven't got a good realationship with her other product partner MeMu due to him being too childish.
Character Design
Hair color: Red
Eye color: Moss Green
Shirt: Black
Shorts: Black 
Jacket: A red jacket with one long and one short sleeve.
Earphones: UNKNOWN
Nationality/Race: Swedish - Japanese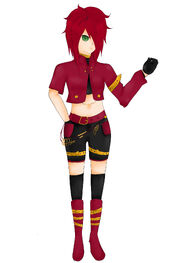 Voice Configuration
Act 1: http://www.mediafire.com/?ll1h95961uaejl1
APPEND SCREAM: Yet to be released.
Genderbend
Genderbend: Set the gflag to +8 to +10
Trivia
She enjoys annoying MeMu
Her best friend is Fuyumi.
Her name is inspired from her creator and voice providers name Crimson.
She has Bacteriophobia
Usage Clause
Do not use her Voicebank for commercial use.
Do not claim her as yours.
Do not edit her voicebank.
Credit me - Crimson, if you use her Voicebank.
You may edit her OTO.ini but ask for permission first. 
You may contact me on Youtube. I go by the name CrimsonRedSound
Please do not change anything in this article. It is written by the creator of Fuyumi Shinkune.
Ad blocker interference detected!
Wikia is a free-to-use site that makes money from advertising. We have a modified experience for viewers using ad blockers

Wikia is not accessible if you've made further modifications. Remove the custom ad blocker rule(s) and the page will load as expected.