Caname Lucia




カナメルチア

NAME INTERPRETATION:
Caname = the creator's name

Lucia = taken from Lucy (creator's favorite anime character)

TYPE: Xloid
MODEL: X01
GENDER
Female
VOICE RANGE
(Recommended) B2 - F5, 60 - 160 BPM
RELATED
CHARACTERS:
AGE
16
GENRE
any
HOMEPAGE
The X
WEIGHT
40 kg
CHARACTER ITEM
Microphone
CREATOR
Caname Miku
HEIGHT
165 cm
VOICE SOURCE
Caname Miku
PICTURE LINK LIST
Not available
BIRTHDAY
August 17
LIKES
Game, Rock, Tecnology
MEDIA LIST
youtube
RELEASE DATE
August 17 2017
DISLIKES
Bugs and ghost
SIGNATURE SONG
終極のメドレー ~超絶技巧暴走組曲~
ADDITIONAL INFO: Her OC ver and UTAU ver are different like KAITO V1 with KAITO V3
Supplemental Information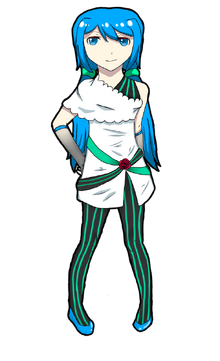 Hair color: Sky blue
Headgear: Hairbands
Eyes color: Sky blue
Dress: Alike the modules for Ultimate Medley from Project Diva X with slight changes
Nationality: Indonesian
Favorite phrase: Everyone can sing, no matter how it sounds
About
Caname Lucia is the first UTAU VB in the the X Project.
Voice Configuration
She have a CV Japanese VB and planned CVVC Indonesian VB. There's no plan to make her VCV VB and CVVC English VB.
VB DL
Beta ver (Now it's referred as Beta not Lucia anymore) here
CV Japanese (Pack 1) here
CVVC Indo (Still coming soon)
Ad blocker interference detected!
Wikia is a free-to-use site that makes money from advertising. We have a modified experience for viewers using ad blockers

Wikia is not accessible if you've made further modifications. Remove the custom ad blocker rule(s) and the page will load as expected.