Voicebank from indonesia
Category page
Talk

0
Ad blocker interference detected!
Wikia is a free-to-use site that makes money from advertising. We have a modified experience for viewers using ad blockers

Wikia is not accessible if you've made further modifications. Remove the custom ad blocker rule(s) and the page will load as expected.
Name:Sakura Himemori
Years:12 years old in wiki 11 years old in my song
Characther item:Bag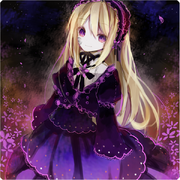 I'am from Indonesia
Ciri-Ciri Sakura himemori
Rambut: keemasan
Mata:Ungu
Baju:Ungu
Topi:Ungu
Chokers:Hitam                                                                                                       Sakura:Bunga sakura
Himemori:Cantik/Bermekaran
Type:Maidloid
Pages in category "Voicebank from indonesia"
The following 8 pages are in this category, out of 8 total.
H

J

J cont.

M

S

S cont.

U