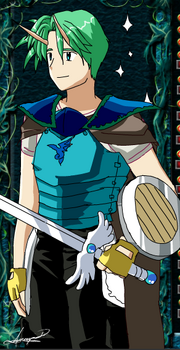 ==
Chester
==
Chester is a magical unicorn. Chester is 18 and goes out with Paul. His sisters are D.C.T and Sam. People say he's to old for Paul. Chester loves his prince Paul. People think he's a girl just because Paul puts him in a dress. His best friend is Eric. Chester is the oldest in the family. For some reason, they all have different last names. Chester likes turning into a unicorn and fly for a while. Chester doesn't like sleeping because when he wakes up he's in a dress.
Cheesecake Chester

Number

21

Age

18

Upper body

Green hair,horn,white shirt,and tie

Lower body

Red checkered pants.

Gender

Male

Items

Cheesecake
Ad blocker interference detected!
Wikia is a free-to-use site that makes money from advertising. We have a modified experience for viewers using ad blockers

Wikia is not accessible if you've made further modifications. Remove the custom ad blocker rule(s) and the page will load as expected.